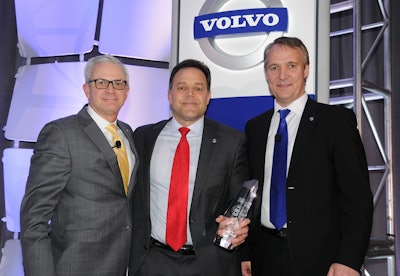 Nacarato Volvo of Nashville, Tenn. has been named Volvo Trucks' 2013 North American Dealer of the Year. The annual award recognizes Nacarato Volvo's organization and employees for overall accomplishment and performance. Selection criteria for the award includes outstanding performance in new truck sales, market share, parts sales and parts sales growth, customer satisfaction, dealer operating standards and investment in facilities.
"The Nacarato family and their organization are outstanding Volvo Trucks ambassadors, and I'm pleased to recognize their success and accomplishments," said Göran Nyberg, president, Volvo Trucks North American Sales & Marketing. "Nacarato Volvo's strong performance and care for customers is a clear example of an organization firing on all cylinders."
Founded in 1976 by Mike Nacarato, Sr., the family-owned business is managed today by Mike Nacarato, president of Nacarato Volvo, and Joe Nacarato, vice president. In 2012, Nacarato Volvo celebrated the opening of a newly constructed full-service dealership located just outside Nashville off Interstate-24. The 80,000 square-foot facility houses 28 service bays and features a dedicated body shop with 18 bays and a two-bay paint booth that provides same-day turnaround. Designed with energy conservation in mind, Nacarato Volvo utilizes a heating system that runs on waste oil. The dealership also harvests solar energy through roof-mounted panels on the service and body shops.