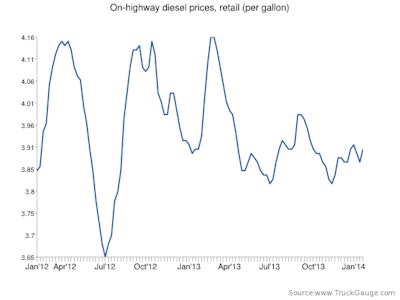 The national average price for a gallon of on-highway diesel rose in the week ended Jan. 27 3.1 cents to $3.904, climbing after two weeks of price drops, according to the Department of Energy's Energy Information Administration.
The price of diesel in recent months has been rising and falling in short bursts, though the price increases have outweighed the price decreases: Since Nov. 1, price increases have averaged 2.1 cents in six price increases, while the price declines have averaged 1.3 cents in seven week-to-week price drops.
The national average price in the most recent week was still 2.3 cents below the same week in 2013.
However, prices in all regions increased, led by an 8.4-cent increase in the Central Atlantic region, followed by a 5.3-cent increase in the New England region and a 5-cent increase in the East Coast region.
The Gulf Coast region had just a one-tenth of a cent increase, while the Rocky Mountain region had a three-tenths of a cent increase.
The Rocky Mountain region, the Midwest region and the Central Atlantic are the only regions to have year over year price increases.
The New England region again has the country's most expensive diesel, $4.171 a gallon, followed by the Central Atlantic ($4.144) and the California region ($4.068).
The Gulf Coast has the nation's cheapest, $3.772, followed by the Rocky Mountain region, $3.863.