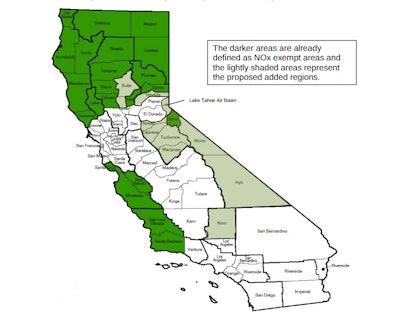 California legislators have scheduled an April 30 hearing on legislation to establish a zero- and near-zero emission technology program for certain vehicles and equipment.
California's Air Resources Board would administer the program, using the board's Greenhouse Gas Reduction Funds, commonly known as cap-and-trade revenue. The Clean Truck and Bus and Off-Road Vehicle and Equipment program would develop, demonstrate and provide pilot deployment of zero-and-near-zero emission technologies.
The program would allow funding for a broader range of projects than under California's Air Quality Improvement Program and its Alternative and Renewable Fuel and Vehicle Technology Program and further prioritize heavy-duty technology investment.
In consultation with local air district, ARB administers AQIP to provide competitive grants to improve the air quality impact of alternative fuels, vehicles, vessels and equipment technology. Its programs include the Hybrid and Zero-Emission Truck and Bus Voucher Incentive Project, which provides California fleet owner vouchers to help buy hybrid and zero-emission trucks and buses.
The California Energy Commission's Alternative and Renewable Fuel and Vehicle Technology Program provides funding to develop and deploy alternative and renewable fuels and advanced transportation technologies
A March 24 legislative analysis stated bill language did not clarify what projects would be eligible under the new program that are not currently eligible for AQIP or ARFVTP. The Senate Transportation and Housing Committee voted 11-0 to advance SB 1204.