Brian Bower knows about Detroit Virtual Technician; the onboard diagnostics system is standard on all Freightliner trucks with EPA 2010 Detroit and newer engines.
OHK Trucking, his employer, operates about 30 trucks that came with the system. Whenever a "check engine" light appears in a truck, experts in Detroit's Customer Support Center (CSC) provide the fleet with information, via email or phone, about the seriousness of the fault code and whether the vehicle can stay on the road or needs to head to the shop immediately.
He didn't know was what else the Virtual Technician could do until one day a sales rep from the local Freightliner dealership talked about a GPS tracking feature called the Visibility package. Bower and OHK Trucking were all ears.
"I can activate it," the sales rep offered. "If you don't like it then I won't charge you for it."
Bower, the compliance manager for Goshen, Calif.-based OHK Trucking, said he was sold quickly.
OHK Trucking is the private fleet of Western Milling, one of the largest feed companies in the United States. When the company started using Visibility, Bower said that he and others had not yet heard of Zonar Systems. The Seattle, Wash.-based telematics company supplies the hardware and cloud-based computing platform to Daimler Trucks North America (DTNA) and Freightliner for the Virtual Technician and Visibility offerings.
DTNA has about 85,000 Class-8 trucks on the road today with Virtual Technician. About 10,000 of these owners have activated the Visibility option. The world's largest truck manufacturer is Zonar's direct sales channel to fleets with heavy-duty equipment.
"We leverage their sales channel by providing backroom support for the products for that sale transaction to happen," said Chris Hines, executive vice president of Zonar during the company's annual user conference, The Zone 2014, held April 22-24 in San Antonio.
Bower was soon put in contact with Zonar Systems to receive training on how to use the Visibility system. Satisfied with the results, Bower looked into what else Zonar Systems could offer. Specifically, he wanted to know if Zonar could provide a tablet device to run electronic logs and vehicle inspection software.
"This system would work perfect for that," Bowers thought.
In September, 2013, Daimler Trucks North America announced a joint project with Zonar called Detroit Connect telematics. The system uses an Android-powered on-board tablet.
The tablet comes pre-loaded with four trucking-specific apps that include navigation, hours of service, pre- and post-trip inspection and two-way messaging with a safety-enhancing text-to-voice feature.
DTNA plans to have Detroit Connect available as an aftermarket solution early this summer and, later in the summer, have the tablet integrated into its first production vehicles.
Zonar Systems markets its products directly to fleets except in the for-hire, Class 8 segment of the market where DTNA is its sales force. Zonar's products include an onboard telematics device called V3; a Web-based fleet management portal called Ground Traffic Control; and an Android tablet named 2020.
The connected vehicle
Bower was one of many fleet managers that made the trip to The Zone 2014 in San Antonio, Texas, to learn more about the technology Zonar Systems has to offer.
Zonar Systems has been in business for 14 years and developed a diverse group of customers in construction, mining, school bus and trucking industries, among others. Through its partnership with DTNA, the company is strategically planted in the connected work vehicle marketplace, said Brett Brinton, Zonar president and chief executive officer.
Its V3 system is factory installed in Freightliner trucks and will soon be standard equipment on all Thomas Built buses, another wholly owned subsidiary of DTNA.
"We strongly believe that telematics are not only the wave of the future but they are here now and they are a very important part of transporting children safely and efficiently every day of the week," said Ken Hedgecock, vice president of sales, marketing and service for Thomas Built. "As we looked around for a partner to team up with, we didn't have to look very far."
"Connected vehicles are the new thing," said Brinton, who predicted that by next year that Zonar will become the biggest player in the connected vehicle marketplace, worldwide. "We want to become the Microsoft, the Apple of the connected vehicle."
As part of this effort, Zonar will be working with Daimler to build new cloud-based apps for its connected vehicles and allow fleets to use the open Android platform to build their own apps and to bring in apps from third parties, he said.
Scaling up
Zonar has telematics systems installed in approximately 370,000 vehicles today. To support the next level of growth, the company is investing in a new architecture for Ground Traffic Control (GTC) to collect and process the data on more than 5 million vehicles.
The GTC upgrade will be rolled out over the next two years and will make the system hundreds, if not a thousand times faster than it is today, Brinton said.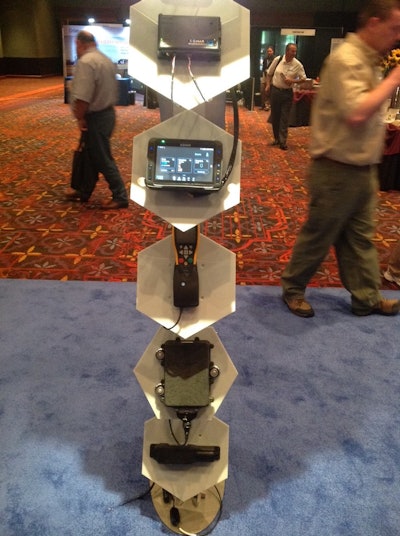 During a breakout session at The Zone 2014 conference, Jack Davis, Zonar's GTC program manager, provided a more detailed overview of the developments. Most of the effort is focused on back-end performance and scalability, he said, but a lot is going into creating new business intelligence and "big data" tools for GTC.
These tools include a Google-type search function in the header to quickly find information and a modern dashboard-style user interface. The dashboard will have "card summaries" for users to quickly create and save custom reports to the dashboard. By clicking on a card summary, the user can then drill down into more detail by selecting dates and applying filters.
Zonar has taken a different approach than most, if not all, telematics providers by partnering with a truck manufacture to develop a connected vehicle platform. That approach seems to fit with the company's tradition of making bold moves.
"We like to lead with disruptive technology," Brinton said.