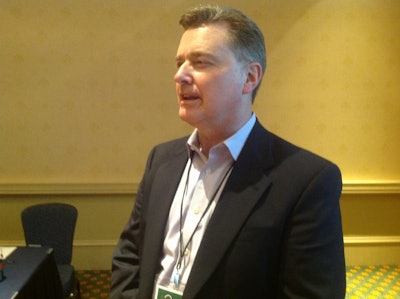 Illinois-based Nussbaum Transportation was a "very, very early adopter" of automated transmissions, explains CEO Brent Nussbaum – pointing to the first slide of his workshop presentation at the CCJ Spring Symposium.
That slide shows a black and white photo of a truck dating back to 70-year-old company's early days. Nussbaum is kidding, of course, though not much.
He dates the actual first move to automated transmissions to the comparatively distant 1980s, when the fleet was largely LTL. With 25 stops a day for a typical route, drivers literally had their hands full.
"There was very little consideration for fuel mileage back then," he says. "It was all about convenience."
But as the LTL segment consolidated, Nussbaum Transportation evolved into a truckload fleet and exited LTL completely in 2001. In 2002 the company began buying automated manual transmissions for OTR applications, starting with the Eaton Autoshift before going to the clutchless Eaton Ultrashift in 2006. The fleet, which now includes 250 trucks and operates in 48 states, has since bought I-Shift-equipped Volvos and, most recently, Freightliners with the Detroit DT-12 AMT.
The first and foremost reason has been safety, Nussbaum explains. (See Slide 1, above)
"Drivers are able to keep both hands on the wheel, and be aware of their surroundings," he says. "The know what's going on, and that don't have to worry about sudden stops and trying to figure what's going on, what gear they need to shift to."
He relates a story from his driving past, as he worked his way up through his father's company: One long, difficult day with a dual-stick manual transmission left a lasting – and very negative – impression.
"The idea has been to let the transmission do the thinking," Nussbaum says. "The ease of starting and stopping, no more missing gears, has reduced driver fatigue."
As diesel prices have risen, improved fuel mileage for AMTs has been another big plus. Specifically, he adds, because automated transmissions "evened out the fleet average" for driver fuel economy, and improved the worst performers.
The adoption of AMTs, however, hasn't been all unicorns and rainbows.
Among the negatives, Nussbaum notes problems for drivers who have learned on AMTs but who occasionally need to handle a manual transmission.
Early versions of AMTs also had various operational limitations and reliability issues. (Slide 2)
"But we never saw any reason to get out of them," Nussbaum says. "There were maintenance issues, but there are maintenance issues with manual transmissions. Again, for us it was always safety first."
The latest technology has overcome those concerns, however, and offer both better reliability and less maintenance than manual transmissions. (Slide 3)
As for drivers, AMTs have proved especially "friendly" to drivers entering the industry. And veteran gear-jammers may sometimes grumble – until they've spent some time behind the wheel with an AMT, Nussbaum emphasizes. (Slide 4)
While he won't claim that AMTs have had a huge impact impact on driver recruiting and retention, Nussbaum Transportation boasts an enviable turnover rate of 30 percent, and quality equipment is an important part of that.
"We've really worked hard to take care of our people," he says. "You've to show them that you care about them. You have to build that culture."
One of the early penalties related to AMTs came at resale, Nussbaum notes. But wider adoption in the marketplace, along with improved technology, has removed much of that cost concern. Indeed, much of the $4,500 premium for AMTs can now be recovered if the truck is sold while the powertrain is still under warranty, he reports. (Slide 5)
"I'm totally sold on automatics. We won't go back," Nussbaum says. "I think you're going to see more and more AMTs."