Note: This story is part of a larger series on predictive analytics and how fleets can use it. Click here to see the main story.

Marketed as: Big data
Emphasis: Safety, efficiency and profitability
Data used: Broad, ranging from driver-generated and CSA-related to areas such as weather and population density
Target customers: Fleets of 50-plus trucks
After getting its jumpstart in 2009 by analyzing information generated through the CSA program, Vigillo since has created more than two dozen data products. This year it added Athena, which the company describes as its "state-of-the-art big data platform and the answer to the business intelligence challenges facing the trucking industry."
In the first week following Athena's February launch after months of customer testing, Vigillo brought on about a dozen carriers representing about 7,000 drivers.
The data approach is to "take a holistic view of everything," says Steve Bryan, Vigillo's chief executive officer. "Whether it's onboard vehicle, back office, government – wherever it lurks, we're trying to pull all of it together into one unified analytic predictive platform where we can start to do things with data nobody's done before."
That means casting a wide net for data. Historical weather information overlaid on other data can reveal unanticipated patterns involving safety, routing, pricing and other things. Or population data from the U.S. Census: "Where exactly and what kind of freight is going to what kind of people," says Bryan.
"Our big goal is to become the hub of all data the industry has," he says. Athena customers receive analytics based on 12 channels of data, including U.S. Census and CSA data.
While Athena's primary focus is safety, its website says it offers "about 30 highly customizable dashboards for effectively managing safety, operations, sales, maintenance, fuel purchasing and driver recruiting and retention, among others."
While retention is on Athena's menu, it's a target that remains a challenge, says Bryan. "What data do you look at? There's a lot of room for driver retention improvement that doesn't have to do with a lot of scientific analytics." Namely the basics, he says: higher pay, more home time and better treatment.
It's reasonable to expect that some thorny issues will develop as carriers apply more predictive models to their recruiting and retention, especially in the pre-hire stage, Bryan says, but such problems are well understood by HR departments. "This is where the world's going – to a more data-driven decision-making process."
Athena's pricing is based on a per-truck subscription and the desired channels. For a fleet of 100 trucks, the Athena platform would cost $35 per month without the Vigillo CSA channel or $88 for the full package.
Case study: John Christner Trucking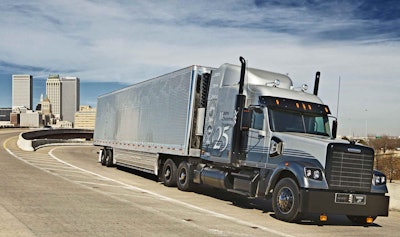 Though the fleet only recently employed Vigillo's Athena, it appears to be "a pretty incredible product," says Shannon Crowley, vice president of risk management for John Christner Trucking, an all-owner-operator fleet based in Sapulpa, Okla.
"The possibilities are endless because of how easy it is to customize, to take slivers of information and put them in reports, or even design your own dashboard, your launch site, and see what you specifically want to see," says Crowley.
One of the biggest uses for the fleet might be the ability to educate its customers about the inevitable problems with CSA alerts. Athena can help the fleet craft a periodic report about points dropping off or coming on, and "help alleviate some of the concerns a customer does have," says Crowley. "To make sure they understand that even though a percentage may not fall back below a threshold in a month or two, they can see that progress is being made."
Having more detailed and current violation data should be able to help with retention, he says. "If you start to see that, and if you can be proactive and intervene with folks before there are patterns of violations you can't ignore and have to terminate leases over, that's a retention tool."
Athena's data should prove effective in various operations areas, Crowley says. Lanes that have more inspection stations experience prolonged delivery times, so the fleet might adjust pricing accordingly.
JCT expanded its data-crunching in late 2013 when it began using a FleetRisk retention module, says Crowley, who sees that as more of a pure predictive analytics tool.
"What Athena is about is less about modeling and more about putting data in a format and comparing the data and analyzing the data any way you want," he says.