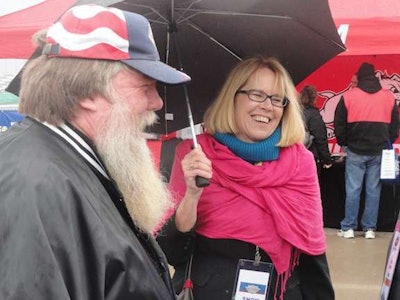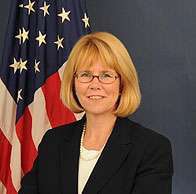 Time, and some basic statistics, will tell how effective Anne Ferro's stint as head of the Federal Motor Carrier Safety Administration has been.
In her farewell interview with trade reporters Thursday, I asked specifically what measures she'd look at in five years. Ferro replied readily: truck-related crashes and fatalities, both the number and the accident rate; driver compensation; and the incorporation of truck safety into the basic principles of supply chain management and efficiency.
So there you have it: Let's all meet back here in 2019, or maybe 2020 to allow a little extra time to round up all the data.
Of course, by 2020 drivers may be largely obsolete, or the career substantially altered by vehicle automation systems. And chances are even better that whoever is sitting at my desk and at yours will have the current FMCSA administrator to keep up with.
How then might we rate Ferro's work here and now?
For starters, have a look at her own assessment.
And the FMCSA public information team was good enough to put together a list as well, and all the programs that have come across Ferro's desk fill up a couple of densely bulleted and hyperlinked pages.
Say what you will, but the last five years have not been boring for trucking.
Of course, when Ferro was nominated in the fall of 2009 the industry was about to hit terminal velocity in what seemed like a Great Recession death spiral.
And Ferro's appointment provided some much needed good news: I called around the Eastern seaboard where she was universally praised by industry leaders for her work as president and CEO of the Maryland Motor Truck Association.
Indeed, her nomination was strongly opposed by the Teamsters and highway safety groups for her support of the then current hours-of-service rule.
My how times change: Trucking is making good money again and the safety groups love Anne Ferro.
But no need to talk about HOS here.
Of course, along with the economic crisis and HOS lawsuits, FMCSA was neck deep in what was then called CSA 2010, which Ferro and Co. rolled out to much confusion a year into her term. And they're still working on it. And a lot of truckers still don't understand it. But, again based on Ferro's remarks Thursday, it's likely the most significant program of her administration.
To keep busy, she also launched the Pre-employment Screening Program, worked on electronic log rulemakings (twice), went after 'chameleon carriers' and revamped the medical certification program – to say nothing of major motorcoach safety programs.
The initiative that she's lobbied for from early on and that could significantly expand FMCSA's authority – and potentially change the way trucking does business – is the focus on driver treatment at the docks. (The government getting involved in how truck drivers are paid and how much? Definitely a 'be careful for what you ask for' sort of solution – but we'll see.)
As someone who covered her earliest appearances at the Arkansas Trucking and Mid-West Truckers associations, I've been around Ferro quite a bit. I know her to be smart and cheerful, unfailingly patient and willing to talk trucking for as long as people have questions or comments.
But Ferro's most noteworthy trait – and a sometimes frustrating one for a trade journalist – has been that she is relentlessly on message. She has a mantra that's she's repeated from the first speech to her final interview. FMCSA under her leadership would focus on:
Raising the bar for new entrants;
Ensuring that current operators remain safe on the roadways; and
Using "every tool in the FMCSA toolkit" to remove unsafe operators "until they get better or get out of the business."
"That framework lends more clarity to fulfilling our mission than I walked into," she said.
And when she talks about her passion for safety and being driven to serve the public, as she does regularly, no one should doubt her.
This time a year ago, it occurred to me that several of the DOT modal chiefs had moved on, and the agencies were being run by folks with 'interim' in their titles – and I wondered then how long Ferro would stay. But I suppose there was always another ball, or three, in the air.
Still, it's unfortunate she chooses to leave so soon after a falling out with ATA – which took big trucking's HOS objections to Congress – and after OOIDA called for her resignation over some unfortunate DOT blog remarks.
"These jobs, these political appointments, by their very nature are temporary," she said Thursday, when asked about the timing. "The new job [at the American Association of Motor Vehicle Administrators] opened up long before OOIDA called for my head."
Simply, she doesn't take these things personally.
Simply, Anne Ferro has been an extremely capable administrator who translated Obama administration policy for the industry she regulated and for the public at large, and who guided FMCSA staff professionals as they turned policy into rules, regulations and guidance. Like them or not.
So long as FMCSA exists, trucking could do a lot worse than to have Anne Ferro – or someone like her – in the regulatory driver's seat. Did she make a real difference? We'll see.
Feel free to add your thoughts below.