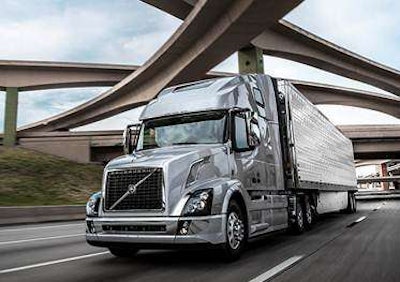 Goran Nyberg is looking for game changers.
Speaking at the Technology & Maintenance Council (TMC) Fall Meeting Tuesday in Orlando, Volvo's North American president of sales and marketing says the future of the trucking industry will be defined by technology, particularly "game changing" technology that revolutionizes the functionality and safety of today's heavy-duty trucks.
He says Volvo has dedicated itself to discovering and implementing this game changing technology.
"We want to be the world leader in sustainable transport solutions," Nyberg says. "We want to be a part of developing this industry."
Nyberg says one area where Volvo hopes to unleash game changers is vehicle connectivity, which allows the OEM to improve vehicle performance safety and user experience.
The latter is especially important in today's driver-starved trucking landscape.
"I would like to see the Volvo truck as the iPhone of the trucking industry," he says. "Easy to understand and operate, bringing great value to the customer."
The OEM's first step in this direction came last year with release of Remote Diagnostics.
Nyberg says there are now nearly 30,000 Volvo trucks on North American roadways operating with telematics software. Designed to help identify root causes for breakdowns, Nyberg says Remote Diagnostics has reduced diagnostic time and repair time for new Volvo trucks by 70 and 20 percent, respectively.
He says Volvo plans to expand its connectivity offering from there with I-See, an innovative program that will allow trucks to "see" and memorize roadways in real time, then refer back to that information during future trips to maximize performance. Promoted with a 5 percent fuel economy savings, Nyberg says the game changer potential of I-See is undeniable, and speaks to the company's commitment to industry advancement and innovation.
"I would like Volvo Trucks to be the first airline in the trucking industry," he says. "I won't put wings on the truck, if that's what you're thinking, but our mindset needs to change.
"Airlines need to be very proactive, and we need to find that proactive approach."
Truck platooning also offers a major game changing opportunity, Nyberg says.
He says Volvo Trucks was the first OEM to tackle platooning, and is currently working to debut the product in Europe. When it becomes available worldwide, Nyberg says platooning will be a game changer unlike any other.
While drivers will still be needed to operate the first vehicle in a platoon, Nyberg says one day platooning may allow following drivers "to read a book or do something else" while moving down the highway. And then "maybe in the future, we won't even need people in those trucks," he adds.
"I think the technology is right around the corner."
And he expects even more opportunities to sprout from these developments.
"I think we have only scratched the surface on connectivity and what we can do with it," he says.