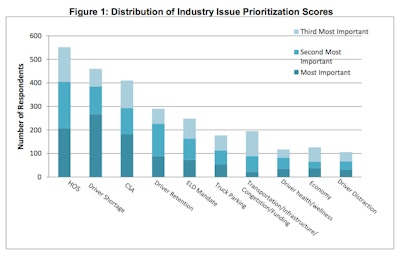 The operational impacts across the supply chain from last year's changes to the hours-of-service rules propelled HOS to No. 1 on the American Transportation Research Institute's list of the top 10 critical issues facing the North American trucking industry.
The growing driver shortage comes in a close second, replacing FMCSA's Compliance, Safety, Accountability program as the number two issue. But challenges still exist with CSA, which ranked third overall on the 2014 list.
The HOS concerns center around the 34-hour restart, explained Rebecca Brewster, ATRI president and COO, in a press conference Monday at the ATA Management Conference and Exhibition. She was joined by ATRI board member Mike Card, president of Combined Transport Inc. and a past ATA chairman.
"Hours-of service has always been a big concern; it's about productivity, about drivers," said Card. "That 34-hour restart was really such a bad law, it really hurt us. This one actually created unintended consequences, and created more a safety problem. That's why ATA has been battling to try and change that law."
Related to the driver shortage, driver retention moved to fourth place from seventh place in 2013 as trucking fleets work to retain their most experienced and qualified drivers.
Finally, industry concern over the timing and specifics of the pending FMCSA Final Rule on electronic logging devices (ELDs) caused this issue to round out the top five industry issues of 2014.
The list:
3. CSA
5. ELD Mandate
6. Truck Parking
7. Infrastructure/Congestion/ Funding
8. Driver Health/Wellness
9. Economy
10. Driver Distraction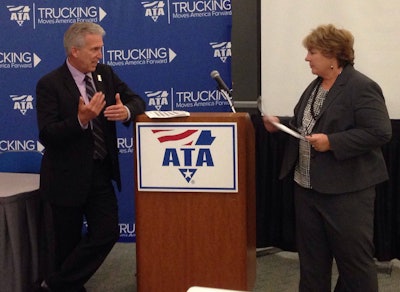 The ATRI survey, now in its 10th year, comprises the responses of 4,000 trucking industry stakeholders, with the ratio of respondents this year being about 70 percent carriers, 30 percent drivers, Brewster noted. She added that the driver shortage was easily the top concern of the carriers.
Card pointed out that six of the top issues were directly tied to drivers.
"Drivers are the No. 1 important issue today," Card said. "I've got trucks sitting right now, that's why it's such an economic issue for me. But it's not just a here-and-now issue. We don't see where the next generation of drivers is coming from. It's a long-term issue as well. Where is the capacity going to come from?"
CSA has slipped from the top issue in 2012 to second last year and now to third.
"Probably, we're getting used to it, and there are other issues that rise top the top," Card said. "But I know that CSA has changed the way we operate as a company. It still effects and drives what we do. CSA would go to No. 1 if FMCSA started publishing crash data without looking at preventability."
The ATRI Top Industry Issues report also solicited and tabulated specific strategies for addressing each issue. And the report includes a round-up of the lists from the first 10 years.
"It's a great indicator of how the industry's priorities and concerns have shifted over time," Brewster said. "Some are very obvious: Fuel goes to the top when the price of diesel is very high, for example."
The 2014 list also has a first-time issue, Driver Distraction, which debuted in 10th  place amid industry concern over the safety impacts of car driver use of cell phones while driving.
The full ATRI survey is available here.