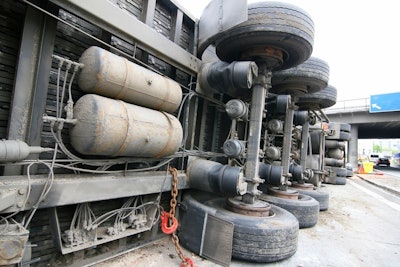 Members of the FMCSA's Motor Carrier Safety Advisory Committee spent the morning of their second day of meetings this week debating the agency's work in raising the minimum amount of liability insurance that carriers must hold to operate.
The upcoming rule proposal — which currently is being reviewed by the White House's Office of Management and Budget — will simply be a means of getting the industry talking about the rule, FMCSA says. And it will not include any specific numbers about what the new minimum will be, said FMCSA's Larry Minor at the Oct. 28 MCSAC meeting.
The rule will be published as an Advanced Notice of Proposed rulemaking meant to solicit input from trucking industry stakeholders, including carriers. Another Notice of Proposed Rulemaking will have to be published before a Final Rule, FMCSA says.
MCSAC members in the Oct. 28 meeting were varied on their stance on the increase, with a consensus that the issue had been rushed, especially given the large amount of data that must be analyzed to determine current claim costs, along with the small percentage of claims that exceed current minimum limits.
A May 2014 MCSAC report offered core and medical inflation numbers as ones worth consideration in the rulemaking. As reported by FMCSA, today's $750,000 minimum, set in 1985, would be $1.6 million if it had kept up with inflation, when measured by the Consumer Price Index. Adjusting for Medical CPI, however, it would be over $4 million, FMCSA noted.
MCSAC members, however, noted that an increase that large could put business-breaking strain on small fleets and owner-operators.
TCRG Consulting's Richard Wilson said he said new owner-operator businesses could spend well above $20,000 annually for liability insurance if the end minimum is near $5 million. Wilson said he based his analysis on conversations with insurance companies.
The American Trucking Associations' Rob Abbott said at MCSAC's meeting the goal of a new higher minimum has been construed as one to cover "all but the rarest" crashes. However, any number must take impacts on businesses into consideration.
"You could cover every last one of the crashes and have the limit set at $50 million," Abbott said, using it as an extreme example to make a point. "We're trying to balance 'all but the rarest'" with considerations of carriers.
The Owner-Operator Independent Drivers Association's Todd Spencer said the amount of total claims that cross the $750,000 threshold is less than 1 percent — a number that has not changed since the 1980s.
Spencer also said a large increase could have big impacts on small business truckers — and on safety, he said, as an increase could inadvertently push otherwise safe operators out of business and off the road.
Schneider National rep and MCSAC member Don Osterberg, however, called the increases in claims that have occurred since 1980 "exponential." And to find an appropriate number, the agency needs to look at the actual modern claim settlements. "I'm not at all sure that looking at core or medical inflation based on the number will capture the exponential increase in the cost of claims settlements," he said. FMCSA needs to look "at the rate of increase of the cost of claims settlements…to get a sense of what's going on," he said.
MCSAC members, however, did urge FMCSA to consider a phase-in period to allow businesses to catch up with any increases in their premiums.
Whatever happens, FMCSA is required by law to conduct a cost-benefit analysis and to specifically review the impact of any hike on small businesses, Larry Minor emphasized. Whether too many would "end up going out of business as a result of this rulemaking, or come close to it," he said, would be a primary consideration in the end.