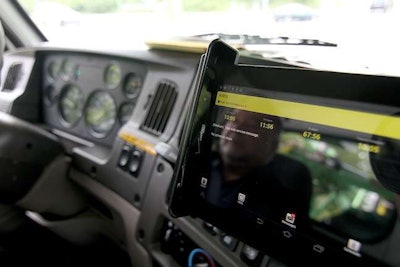 The American Trucking Associations and the Trucking Alliance have said they agree with findings of a recent DOT report that found the use of electronic logging devices does not increase the likelihood that a driver will be harassed by his or her carrier.
The Owner-Operator Independent Drivers Association, however, called the study "limited."
"The FMCSA failed to address the safety impacts of harassment or provide evidence of any safety benefits of ELDs," the association said in a study. "According to the data in this study, mandated ELDs could mean nearly 300,000 truck drivers would experience harassment issues on a regular basis. We disagree with FMCSA's conclusion that this is a negligible consequence."
Rob Abbott, VP of safety policy for ATA, says his group hasn't thoroughly reviewed FMCSA's findings, but he says the agency's report is a tool the agency can use to protect its rule from court scrutiny — which is what derailed the agency's previous attempts at mandating electronic logging devices.
ATA and the Trucking Alliance also both said ELD use has the potential to actually mitigate driver harassment, as well as benefit drivers in other ways.
"Mandatory ELDs will help make truck drivers' jobs easier. No longer will they fill out paper logbooks, a practice that is prone to mistakes and even worse, easily falsified to show fewer hours of on-duty time than the driver actually worked," said a statement from the Trucking Alliance.
Likewise, ATA's Abbott said drivers benefit from the automatic reports and data recorded by ELDs and corresponding fleet management systems.
"[ELDs] arguably are tools or drivers to further empower themselves to show that their carrier encouraged them to drive when tired or to break rules," he said.