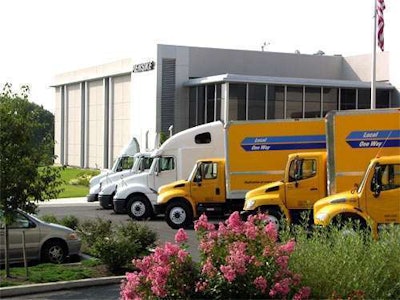 Penske Logistics filed Jan. 6 a petition asking the Supreme Court to hear its appeal of a decision made by a federal appeals' court earlier this year, in which it was ruled that carriers must grant truck drivers in California paid meal and rest breaks.
The Ninth Circuit Court of Appeals ruled in July to overturn a lower court ruling that had exempted carriers from the California law. The Golden State's law requires employers to grant employees paid 30-minute meal breaks every five hours and paid 10-minute breaks every four hours.
The legal question at the heart of the case is whether the Federal Aviation Administration Authorization Act preempts state law. Lower courts had ruled it does, but the Ninth Circuit appellate court, which has a reputation for bucking trend, ruled the California law was unrelated to "prices, rates and services" — three key market elements the 1994 Act intended to protect from interference of state laws, Penske argues.
"This case is about federal law preempting state laws that relate to rates, routes, and services offered by trucking companies," says Penske Senior VP and General Counsel Michael Duff. "We're asking the Supreme Court to resolve this issue for our company and the trucking industry. The Ninth Circuit's decision significantly impacts the entire transportation industry as well as the flow of commerce and ultimately impacts consumers."
The American Trucking Association agrees. After the Ninth Circuit's July ruling, ATA's Deputy General Counsel Richard Pianka told CCJ that the Ninth Circuit is the mostly likely to have a decision reversed by the Supreme Court.
"The odd thing is something like a dozen district courts have looked at this, and almost all said the federal law preempts in this instance, and that's what everybody was operating under," Pianka told CCJ in July.
The Ninth Circuit's decision, if left in place, could have ramifications nationally, Pianka said, as other states with similar break requirements could argue their laws also preempt federal law.
Three Penske drivers brought the case in 2008, arguing Penske is legally required to ensure drivers could take their breaks. The driver plaintiffs argued Penske had created "an environment that discourages employees from taking their meal and rest breaks," according to the lawsuit documents.
Penske spokesperson Randy Ryerson said the Supreme Court likely will decide within two to three months to hear the case or not.