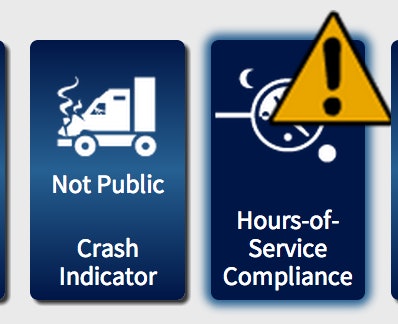 The Federal Motor Carrier Safety Administration announced last week it had concluded that implementing some form of crash fault assignment or "crash accountability" into its Compliance, Safety, Accountability program would not affect scores and would be overly complicated to do.
Industry groups, however, have expressed disagreement and disappointment with the agency's conclusions, which the agency released last week within a study. Click here to read more on the study and the agency's conclusions and methodology.
Both the American Trucking Associations and the Owner-Operator Independent Drivers Associations released statements last week reiterating their stance on crash fault weighting in CSA: The program has a potentially major problem with fairness if crash accountability continues to be left out.
"We want to be fairly judged and not be penalized by crashes our professional drivers could not reasonably avoid," said ATA Chairman Duane Long, chairman of Longistics, Raleigh, N.C. "It's not only a fairness issue; it's a good government oversight approach. We continue to trust FMCSA might eventually arrive at this conclusion."
OOIDA also pointed to the public nature of CSA rankings and data as reason why the data set used should be as fair as it could be.
"If the agency is providing information to the public that is to be used to make safety decisions or conclusions, that information should be relevant, accurate and as complete as humanly possible," OOIDA said in a statement.
ATA Executive VP Dave Osiecki says his group has asked FMCSA repeatedly since 2010 to screen out crashes in which it was clear the truck driver involved was not at fault. He also highlighted a few examples of crashes — which affect those carriers' CSA scores — in which it was "plainly evident" the truck operator wasn't to blame.
"Instances where a truck is rear ended by a drunk driver, or hit head on by a motorist traveling in the wrong direction on the interstate, or as happened just Monday when a truck was struck by a collapsing bridge are clearly not the fault of the professional driver and certainly should not be used to target his or her carrier for potentially intrusive government oversight," Osiecki says.