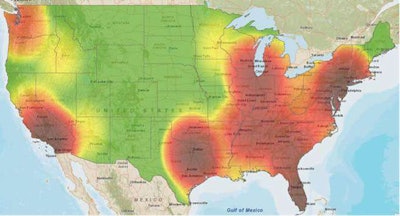 The former owner of a Memphis-based fleet was sentenced this month to 10 years in prison — the maximum amount allowed by law — for using the trucks in his business to run a cargo theft scheme that stole roughly $3.5 million in freight.
Early Stanley Nunn, 60, former owner of Nu World Trucking, was also ordered to pay $3.5 million in restitution.
Nunn pleaded guilty to the charges of theft of an interstate shipment last year. Nunn was the leader of a cargo theft ring that used Nu World trucks that would roam truck stops and service areas looking for unattended trailers that were not hooked to trucks.
When they found them, they would steal the trailer and the goods by hooking and fleeing.
They would take the loads to fenced areas in either Chicago or Detroit to be sold.
Nunn had co-conspirators in states around the country, the Justice Department says.
CCJ reported more in-depth on Nunn and his cargo theft ring last summer. Click here to read that story.