EpicVue, providers of an in-cab satellite TV package for the trucking industry, announced that a growing number of carriers with 20 to 50 trucks are using EpicVue as a key part of their driver recruitment and retention capability.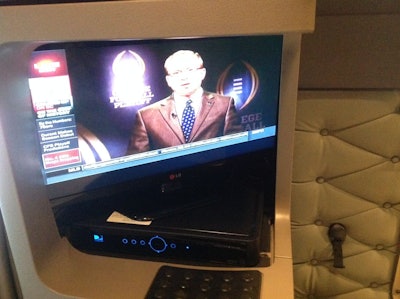 "Smaller and specialized carriers are experiencing a driver shortage much like their larger counterparts," said Lance Platt, CEO of EpicVue. "What we're hearing from smaller carriers is that EpicVue provides comfort and convenience. It's an affordable satellite TV system that makes truck cabs feel more like home, and is proving to be a key factor when drivers decide to work for and stay with these companies."
Nagle Companies in Walbridge, Ohio, offers a variety of truckload food distribution solutions, including temperature controlled, dry van, local cartage, and dedicated services, primarily to states east of the Mississippi. For the past month, the company's shop has been installing EpicVue in the carrier's 22 over the road trucks. Plans also call for adding the satellite TV systems to the 15 new trucks the company has on order.
"We're looking for drivers like everyone else," said Ed Nagle, president, CEO of Nagle Companies. "In food hauling operations, especially on the east coast, we can experience a lot of operational and traffic related delays. While our drivers may have DVD players in their trucks, with satellite TV they can turn on the news, or watch a movie or sports to help pass the time. EpicVue provides a tremendous quality of life improvement for our drivers."
"We value our drivers as professionals," he continued. "For example, we pay them a salary, not a per mile rate. EpicVue requires only a small investment that goes a long way. I can't think of an easier way to give a driver something that costs just $50 per month and is worth a lot more.
Stageline Express is an irregular route truckload carrier that hauls time and temperature sensitive food, pharmaceutical and produce shipments from the Midwest to the all points west. Based in Coopersville, Mich., it became the first carrier in the state to install EpicVue and is currently putting the in-cab satellite TV systems in 40 trucks, including about 20 driven by dedicated owner-operators. The installations, at a rate of about three per day, are being handled by a local Direct TV installer. The process, Freeland noted, is sometimes simpler than that for a house or an RV.
"Anything we can do to enhance life for our drivers is something we will do," said Tom Freeland, president and owner of Stageline Express, Inc. "EpicVue appealed to us because the life of a driver on the road is hard. Their time is structured, parking, truck stop and shipper facilities are often limited, and when they have a rest period there's not much to do. The quality of life that EpicVue provides, whether it's watching a movie they recorded or following their team on NFL Sunday Ticket, is very valuable."
"It's also a very effective recruiting tool," Freeland added. "The most frustrating thing is to have an empty seat when you have loads to haul. EpicVue easily helps us attract drivers and eliminate that cost by retaining them. For anyone who's driven before, EpicVue is a no brainer."
JMJ Equipment Transport based in Yuma, Arizona, operates 23 trucks and recently began using EpicVue.
"It's very difficult for us to find drivers because we haul heavy and oversize loads of agricultural and construction equipment on specialized trailers," said Jasen Jones, owner and CEO of JMJ Equipment Transport Inc. "We need drivers who are qualified to handle, load and unload equipment, and when we find them we absolutely need to retain drivers with those qualifications. That's why we've installed EpicVue in all but the two trucks we keep as spares."
"In our specialized operation," Jones continued, "it can cost $12,000 to $15,000 to find and train a driver. That makes the rate of return on EpicVue as a recruiting and retention tool very good.
EpicVue has packaged satellite TV for fleets with 20 or more vehicles for $49 per month under a five-year contract, or $59 monthly for a three-year contract. The in-cab satellite TV systems, including an antenna, DVR and 24-inch flat screen TV, can be installed in less than two hours per vehicle. The service provides more than 100 channels of programming, including premium TV services such as HBO, Showtime and NFL Sunday Ticket, for a monthly subscription fee and without any hardware costs.