[envira-gallery id="139467″]
Peterbilt's SuperTruck isn't the flashiest next-generation truck on the road. For the most part, it looks like your normal everyday tractor-trailer combo. And that was by design.
Built in partnership with Peterbilt and Cummins, and funded partially through a U.S. Department of Energy (DOE) grant, SuperTruck has achieved 10.7 mpg under real-world driving conditions.
SuperTruck averaged a 75 percent increase in fuel economy, a 43 percent reduction in greenhouse gas (GHG) emissions and an 86 percent gain in freight efficiency in 24-hour, head-to-head testing against a 2009 baseline truck.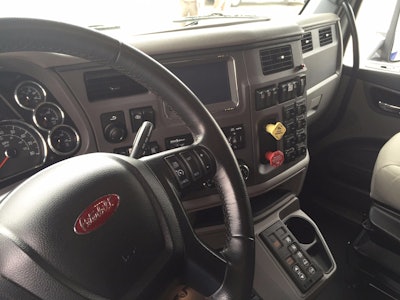 The goal of the SuperTruck program was to improve long-haul Class 8 vehicle freight efficiency by the end of this year. Peterbilt's SuperTruck did that and then some according to Ken Damon, SuperTruck Project Manager at Peterbilt, who says the company over-achieved on its results and delivered them two years early.
Most major trucking OEs have taken part in the SuperTruck program, and each have taken different paths in design. Freightliner's SuperTruck, for example, was built mostly from the ground up with new and custom-fabricated technologies.
The Cummins-Peterbilt SuperTruck uses Peterbilt's Model 579, and many of the aero-improvements found in Pete's SuperTruck gave birth to Peterbilt's Model 579 EPIQ.
The engine is based on a Cummins ISX15 and converts exhaust heat into power delivered to the crankshaft, and has electronic control software that uses route information to optimize fuel use. Peterbilt's SuperTruck also includes chassis refinements, which include some strategically placed holes in the frame rails that Damon says saves roughly three pounds per foot of frame rail.
Lightweighting throughout the tractor-trailer also enables increased freight efficiency. Eaton also helped with the design, development and prototyping of an advanced transmission that facilitates reduced engine-operating speeds.
Damon says Peterbilt called on long-time fleet customer U.S. Express for design feedback, and asked them to help to develop a real world electrical load profile calling on the experience of its own drivers.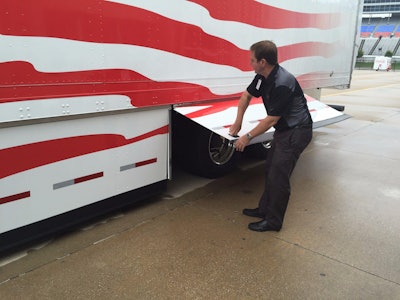 For example, drivers noted that SuperTruck's side skirts were far too close to the ground, so engineers made them air actuated. They can be raised a lower speeds and over rough terrain to avoid damage and lowered on long hauls. Damon says engineers are also working to make the side skirts responsive so they can retract on their own at low speeds and only deploy only when they could affect the aerodynamics of the truck.
"For example, (the skirts) could retract at speeds under 45 miles per hour, when there's less aero dynamic benefit, meaning they would automatically be raised when going over railroad trucks, or to the loading dock," he says. "That would minimize the risk of damage to the skits at low speeds."
Driver feedback also said the skirt portion covering the rear trailer axles was impractical. In response, Peterbilt made that section of the skirt an independent panel that can be lifted when the driver wants to move the axles or has a need to access the tires.
This demonstration of the Cummins-Peterbilt SuperTruck has exceeded DOE goals for freight efficiency – a key trucking metric based on payload weight and fuel efficiency expressed in ton-miles per gallon.
In December 2013, on a 312-mile route from Denton, Texas to Vernon, Texas, Peterbilt's SuperTruck achieved 10.7 mpg, an 86 percent improvement in freight efficiency and a 75 percent fuel economy improvement. The program goal was a 68 percent freight-efficiency increase over a 2009 vintage baseline vehicle of the same weight traveling along the same route.
The truck was running with a combined gross weight of 65,000 lb at 64 mph.
Damon says the increase in fuel economy for the Peterbilt SuperTruck would save about $27,000 annually per truck based on today's diesel fuel prices for a long-haul truck traveling 120,000 miles per year, and would also translate into a more than 43 percent reduction in annual GHG emissions per truck.