Editor's note: This is the second part of the two-part "Natural gas reality check" series. Click here to see Part 1.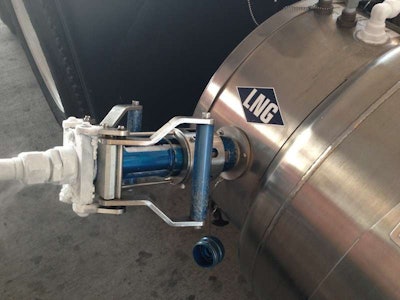 Despite the drop in diesel prices, carriers that were on the leading edge of natural gas adoption are finding ways to remain successful.
Dillon Transport, a 400-truck tank carrier based in Burr Ridge, Ill., was one of the first to jump headfirst into the natural gas market. The tank carrier experimented with both LNG and CNG before ultimately migrating to CNG for its daycab operations.
The key to success in a low-cost diesel environment is to keep the trucks on the road, says Phil Crofts, marketing manager.
"You always strive to get the highest-mileage lanes to get the quickest payback," says Crofts. "We want to run those trucks 1,000 miles per day if we can."
Crofts explains how the math works. "Let's say you can save $1.50 gallon in CNG vs. diesel and you run 300,000 miles per year and get 6 miles per gallon – that's 50,000 gallons," he says. "At $1.50 per gallon in savings, the payback is pretty significant. If the gap between diesel and CNG lessens to $1.20, then the payback obviously gets extended."
Curt Reitz, president of Contract Transport Services, a dedicated and regional carrier based in Green Bay, Wis., calculates his company's return on investment for its natural gas trucks based on the tank package.
"I don't think anyone knows what the residual value is on a natural gas truck with a 12-liter engine because they are so new," said Reitz during the American Trucking Associations' "Using CNG in a Low Cost Diesel Environment" webinar in April.
"If you scrapped the truck and moved the tanks to the next truck you buy, you get to use those tanks for up to 20 years as long as there's no damage," Reitz said. "We look at ROI being 300,000 miles, which in our case is 18 months because we slip-seat and average 215,000 miles annually. We figure for every 10-cent drop in a gallon of diesel that we'll need to add an additional 20,000 miles to that ROI timeframe."
Because of the uncertainties surrounding the used natural gas truck market, Dillon is taking a different approach to extending the life of its natural gas tractors to ensure profitability in its operation.
"It's possible we'll rebuild these daycabs because there are $30,000 to $40,000 in fueling systems and storage vessels on these trucks," says Crofts. "We don't know what the trade-in value is going to be. Our hunch is that we will rebuild. The chassis will go a million miles, and the transmissions have 750,000-mile warranties. We will rebuild the trucks – seats, steering wheels, etc. – and extend the use of the fuel tanks that are warranted for 20 years."
Carriers with natural gas tractors say they still maintain an advantage with customers compared to competitors with diesel-powered equipment.
"It is still cleaner than diesel," says Crofts. "We still find customers have interest in carriers that run natural gas vehicles because it is cleaner, cheaper and domestic. We still use it by marketing that aggressively to the right customers."
Reitz says CTS' adoption of natural gas – beginning in 2012 in order to retain a significant customer that was demanding the conversion – has opened new opportunities.
"[Diesel] at that time was $3.90 per gallon, so there was a huge push for CNG in the state of Wisconsin from a customer standpoint because they knew the fueling infrastructure was there," said Reitz. "With that came other customer opportunities. In 2012 and 2013, it was nice when people hear you run CNG equipment and they begin reaching out to you and bring those opportunities for business to you."
To maximize miles, CTS converted its natural gas lanes to drop-and-hook. "Now that we have CNG to offer, we can be more selective in freight," Reitz said. "And our drivers are making more and driving more miles in less time because of drop-and-hook. From an owner's standpoint, I'm doing more with less. I had a 150-truck fleet before, but I can do the same or more business with 125 trucks, and we've created jobs that drivers like a lot more."