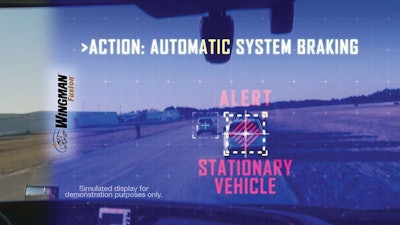 The National Transportation Safety Board released a report Monday recommending collision avoidance systems become standard on all new commercial and passenger vehicles.
NTSB says it found during its investigation that collision avoidance systems could have prevented or lessened the severity of injuries in two-car accidents involving tractor-trailers by nearly 80 percent in 2011-2012.
Over the past three years, NTSB says it has investigated nine rear-end accidents involving passenger or commercial vehicles striking the rear of another vehicle – resulting in 28 fatalities and 90 injured people. NTSB said in its report the nine crashes it investigated do not represent the typical rear-end crash scenario, but instead they represent more catastrophic crashes.
The report concludes that collision warning systems, particularly when paired with active braking, could significantly reduce the frequency and severity of rear-end crashes.
The report states reasons for rear-end crashes vary from "driver inattentiveness and violations of driver expectancy to unsafe speed, fatigue and reduced visibility." Moreover, the report says, "driver failure to orient attention to critical situations is a common cause of rear-end crashes."
The NTSB also used a complete forward collision avoidance system, which includes a collision warning system, active brake support and autonomous emergency braking, to test the effectiveness of such a system.
The systems work by monitoring the environment for potential conflicts, such as a slow or stopped vehicle, and alerts the driver when necessary. If the driver doesn't act quickly enough, the system will begin braking or apply extra braking pressure to help slow the vehicle faster.
The NTSB found that might have prevented or lessened the severity of injuries in 93.7 percent of two-vehicle crashes in 2011-2012. This is compared to 87.1 and 79 percent when the striking vehicle was a single-unit truck or tractor-trailer, respectively.
As a result of these findings, the NTSB has made recommendations to both the National Highway Traffic Safety Administration and car manufacturers.
New recommendations to the NHTSA are as follows:
•Develop and apply testing protocols to assess the performance of forward collision avoidance systems in passenger vehicles at various velocities, including high speed and high velocity-differential.
•Complete, as soon as possible, the development and application of performance standards and protocols for the assessment of forward collision avoidance systems in commercial vehicles.
•Expand the New Car Assessment Program 5-star rating system to include a scale that rates the performance of forward collision avoidance systems.
•Once the rating scale, described in Safety Recommendation H-15-6, is established, include the ratings of forward collision avoidance systems on the vehicle Monroney labels.
The NTSB also reiterated the following recommendations from previous reports:
•Develop stability control system performance standards for all commercial motor vehicles and buses with a gross vehicle weight rating greater than 10,000 pounds, regardless of whether the vehicles are equipped with a hydraulic or a pneumatic brake system.
•Once the performance standards have been developed, require the installation of stability control systems on all newly manufactured commercial vehicles with a gross vehicle weight rating greater than 10,000 pounds.
For passenger vehicle, truck-tractor, motorcoach and single-unit truck manufacturers, the NTSB made the following recommendations:
•Install forward collision avoidance systems that include, at a minimum, a forward collision warning component, as standard equipment on all new vehicles.
•Once the NHTSA publishes performance standards for autonomous emergency braking, install systems meeting those standards on all new vehicles.
The above recommendations are just that – recommendations made to regulators – and no policy or rulemaking has been made at this time.