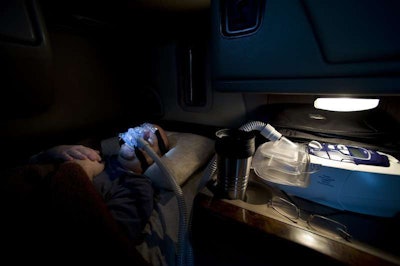 The Federal Motor Carrier Safety Administration has started work on a potential rule that would set up screening and treatment requirements for drivers who by definition are at risk for obstructive sleep apnea.
According to a monthly regulatory report issued by the Department of Transportation, FMCSA began work on the potential rule Oct. 1. It is producing the rule as an Advanced Notice of Proposed Rulemaking, which, unlike standard Notices of Proposed Rulemaking, are simply intended to gather data from carriers and other stakeholders before proceeding to producing a rule proposal.
The report indicates the ANPRM will be sent to the White House late next month and be published in mid-December.
The DOT positions the ANPRM as one intended to "request data and information concerning the prevalence of moderate-to-severe obstructive sleep apnea among individuals occupying safety sensitive positions in rail and highway transportation."
The agency will use the information gathered in the ANPRM, according to the report, to determine the economic impact and safety benefits of a potential rule to require those "who exhibit multiple risk factors for OSA" to undergo screening for a potential diagnosis and be treated if such a diagnosis is issued.
FMCSA in January issued a bulletin of clarification on sleep apnea screening following concerns from Congress, industry stakeholders and the NTSB. The main point of the clarification was simple: The decision to send a driver in for sleep apnea evaluation and treatment will be left up to the medical examiner issuing a driver's required bi-annual medical certification.
In 2013, Congress passed a law that bars FMCSA from addressing sleep apnea screening and treatment via guidance. If the agency decides to take action on sleep apnea, it must do so via the formal rulemaking process, per the 2013 law.
No word from DOT on speed limiters, e-log rule still scheduled for next week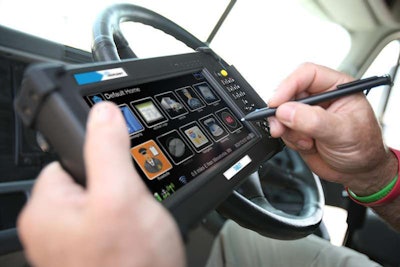 The DOT's Oct. 15 report gave no insight as to when the industry can expect a proposed rule to mandate use of speed limiters on heavy trucks. The DOT still lists Sept. 21 in the report as the rule's projected publication date, unchanged from the September-issued report.
The Notice of Proposed Rulemaking is currently in the hands of the White House's Office of Management and Budget, who's been reviewing the proposal since May. The DOT has not indicated when the OMB will clear the rule for publication.
The report does, however, still list Oct. 30 as the projected publication date for a Final Rule to mandate the use of electronic logging devices for all truck operators currently required to keep paper logs. Enforcement of the rule likely will take effect two years following its publication.