During its annual Telogis Latitude business conference, Telogis, Inc. announced a new lineup of iOS apps that enhance the user experience (UX) to its connected vehicle and mobile workforce platform by taking advantage of the unique tools and features available on iPhone, iPad and Apple Watch.
Apple recently announced it is working with a select group of business software and solution providers, including Telogis.
Some of the apps that Telogis offers include Compliance for government-regulated driving hours (Hours of Service) and mandated vehicle inspections; Telogis Navigation for specialized truck-specific directions; and a gamification app for drivers called Telogis Coach that scores driving behaviors, safety or productivity metrics.
"Working directly with Apple to build extraordinary user experiences into apps like Telogis Coach brings our customers a level of ease, familiarity and functionality that makes work on an iPad, iPhone or Apple Watch more productive and more fun," said David Cozzens, chief executive officer at Telogis. "The mission-critical nature of connecting everything in a business to the Internet of Things – vehicles, people and customers is a given, and we continue to innovate by delivering the same high-quality iOS user experience to enterprise customers that they expect on the consumer side."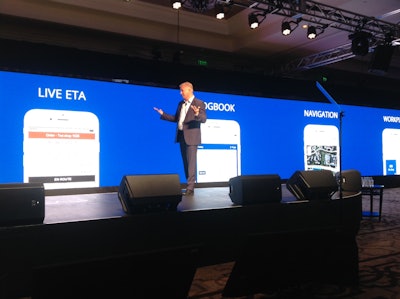 Telogis connected vehicle apps for iOS represent a mobile extension of its Software-as-a-Service (SaaS)-based platform.
Over the past few years, Telogis has partnered with some of the world's largest vehicle and equipment manufacturers – including Ford, General Motors, Hino, Mack, Volvo, Isuzu and Manitowoc Cranes – to connect vehicles and equipment and the people who use them for work by building its software applications in at the factory level.
Telogis Latitude is an annual gathering of Telogis users, automotive OEM partners and other industry executives taking place this week at the St. Regis Monarch Beach Resort in Dana Point, Calif.