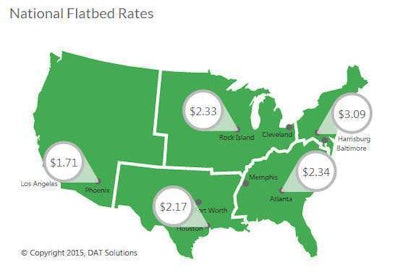 In many ways, trucking is becoming more like the travel industry by sharing instant pricing information.
Rather than exchange rates with brokers and shippers manually through email, motor carriers are starting to use technology to automate the sharing of dynamic rate information.
Sunset Pacific Transportation, a 135-truck carrier based in Chino, Calif., is now using a pricing engine API from Project44 to automate communications with shippers and brokers looking for spot quotes.
The company consolidates parcels and less-than-truckload shipments into truckloads outbound from California to locations nationwide. Its return trips to California are full truckload moves.
The API, which stands for application programming interface, directs rates from Sunset Pacific's transportation management system into the TMS systems of its shipper and broker customers. Sunset Pacific also uses the API in its corporate website to present rates to customers and prospects through an instant search tool.
Josh Craig, president and chief operating officer, says Sunset Pacific gives customers prices based on current market conditions, automatically, by using the current rate information entered in its TMS. "We can change rates anytime we wish," he says. "If we have a new customer with truckloads out of Minnesota, we can go in and lower our rates to Minnesota."
Seventy five percent of the company's rates used to be contract rates. Today that share is about 40 percent with the remainder spot quotes. Sunset Pacific also has brokerage authority and is currently working with Project44 to receive truckload rates through the API directly from carriers for its consolidated loads out of California.
Craig says the pricing engine API from Project44 does not have a setup fee which eliminates all risk for trying out the technology. The company pays a monthly charge based on the number of rate requests or "hits" it receives. To date, its biggest invoice has been $250 for one month.
Besides saving time, Sunset Pacific is now able to reach customers that it had not done business with before by being included in these companies' automated requests for spot quotes, he says.
Online load boards have traditionally not handled functions that come after rates are negotiated such as freight tracking and billing. Some new online services can manage transactions end to end.
With 90 percent of motor carriers operating less than six trucks, mobile apps give brokers and shippers a way to automate communications with owner operators and small fleets.
A mobile app called Uber gives passengers instant rates between any local origin and destination and connects them to drivers to make a pickup within minutes. How could booking a truckload shipment ever been this easy?
To help attract and retain good carriers, several companies now offer free, online fleet management systems for fleets to dispatch their equipment and drivers.