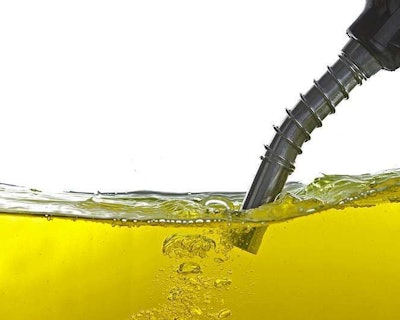 With the price of diesel down nearly a dollar from this time last year, right now might not be best time to go shopping in the alternative fuels market. Or so you may have thought.
Some important and innovative work is done with green technologies, but with those fuels coming with often-substantial premiums (either at the pump or on the dealership lot), much work is needed to make that price point more attractive. Meanwhile, diesel is now cheaper than a gallon of store-brand milk.
Mack Trucks this week, joined earlier by its sister company Volvo Trucks, signed off on the use of renewable diesel in its engines – another important movement in green tech.
Let's add some clarity here. Renewable diesel isn't biodiesel. It doesn't even contain biodiesel. But it is made from similar biomass sources, like recycled fats and oils.
It's hard to nail down prices on renewable diesel – if you can even find it – because there isn't enough demand for the law of economics to neutralize price per gallon differences. Depending on where you find it, it can come with a marginal premium. But not in every case.
A Chevron station in San Jose, Calif. is selling Propel Diesel HPR (High Performance Renewable) for $2.39 per gallon as of this morning. That same station is selling regular diesel for the same price. At another Chevron station in Oakland, Calif., Diesel HPR is actually 20 cents per gallon cheaper.
A life cycle analysis of renewable diesel fuel conducted by the California Air Resources Board (CARB) demonstrated reductions in greenhouse gases by 15 to 80 percent. That's a win for the environment. If you're driving by the Chevron on Grand Ave. in Oakland, that's win for you.
You don't need a kit to run renewable diesel. You don't need a special engine, a blending chemical or even an upfit. You just dump it in. Another win for you and Mother Earth.
Mack's testing found that renewable diesel fuel delivers performance similar to traditional diesel with the benefit of reduced emissions. Also, thanks in part to a cetane rating 40 percent higher than regular diesel, Mack found there was also a decrease in maintenance costs when using renewable diesel.
Even if you find renewable diesel at a slight premium, don't overlook the value of reduced maintenance. A cleaner, smoother combustion means less wear-and-tear on the engine, leaving more room for horsepower and torque to do their thing. That's another, and maybe the most important, win-win.
The drawbacks are, depending on the fuel feedstock, renewable diesel can be inconsistent, and it won't be widely available any time soon.
But if the prospect of buying natural gas trucks turns you off and an opportunity to test renewable diesel comes along – even on a limited basis – give it a shot. To-date, it's the least expensive and easiest way to help reduce the carbon footprint of your fleet. All you have to do is unscrew the fill-cap and squeeze the trigger.