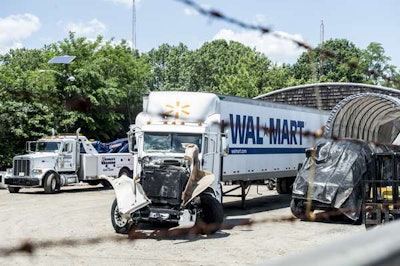 The truck driver involved in the accident that killed one man and injured comedian Tracy Morgan in June of 2014 pleaded not guilty to all charges when he was arraigned in Superior Court in New Brunswick, N.J., on Feb. 1.
Walmart driver Kevin Roper of Jonesboro, Ga., was arraigned on charges of aggravated manslaughter, vehicular homicide and aggravated assault charges in the New Jersey Turnpike crash that killed comedian James McNair and severely injured Morgan and other passengers in the limo.
Roper was indicted on the charges in December. He had previously given the same not guilty plea in June 2014 in the days following the crash.
Roper's attorney has said it is impossible for his client to get a fair trial because Morgan's lawsuit generated negative publicity. He filed several motions to stop Morgan's civil suit from proceeding until Roper's criminal proceedings had concluded.
All of those motions were denied, however, and Walmart has since settled with Morgan and the others who brought civil suits stemming from the crash, including the family of McNair.
The National Transportation Safety Board investigators determined in its investigation that Roper had been awake for more than 24 hours preceding the crash and had slept just 4 hours in the 33 hours prior to the crash.
The NTSB said Roper was traveling about 20 mph over the posted speed limit and likely fell asleep at the wheel before the crash. The NTSB blamed his odd commute — a 700-mile trip in his personal car from Georgia to Delaware taken overnight before beginning his on-duty shift — as the reason for Roper's sleep-deprived schedule.