Update: The sleep apnea ANPRM has been published by the Federal Motor Carrier Safety Administration. Click here to read more on its publication and how you can file formal feedback on the rule with FMCSA. Here's the original story on the announcement of the apnea "pre-rule," preceding its publication: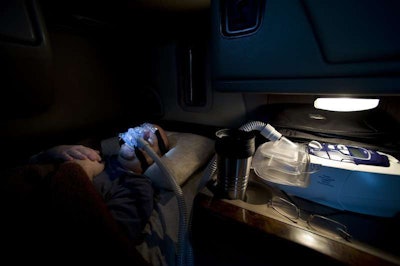 The Department of Transportation will soon publish a notice seeking feedback from trucking industry stakeholders about the prevalence of obstructive sleep apnea among truck operators and any potential costs carriers and others may incur if the DOT were to issue a rule requiring sleep apnea screening and treatment.
The DOT's Federal Motor Carrier Safety Administration calls the request for feedback the "first step" in a potential sleep apnea rule for the trucking industry. Currently, the agency recommends that drivers exhibiting symptoms of respiratory dysfunction be referred to a specialist for evaluation. The agency, per a federal law passed in 2013, cannot issue official guidance to medical examiners, carriers or drivers about sleep apnea beyond the January 2015 recommendation.
"The collection and analysis of sound data on the impact of OSA must be our immediate first step," said FMCSA Acting Administrator Scott Darling. "We call upon the public to help us better understand the prevalence of OSA among commercial truck and bus drivers, as well as the safety and economic impacts on the truck and bus industries."
FMCSA plans to publish the request for feedback in the Federal Register on Thursday, says FMCSA spokesperson Duane DeBruyne. The 90-day window to submit input on the agency's Advanced Notice of Proposed Rulemaking will begin then. Check CCJ Thursday for a link to the comment page.
The agency lists 20 questions in its ANPRM that it would like carriers and truck operators to offer feedback on.
They include questions about the prevalence of moderate-to-severe obstructive sleep apnea among truckers, its prevalence by age, methodology for gathering such data, the effectiveness of a potential sleep apnea screening rule, potential costs of a rule and who would bear them, methodology for determining costs, diagnosis and screening procedures that might work within the trucking industry, performance of drivers with obstructive sleep apnea and more.
The questions will be available in the rulemaking's regulations.gov docket once it's published Thursday.