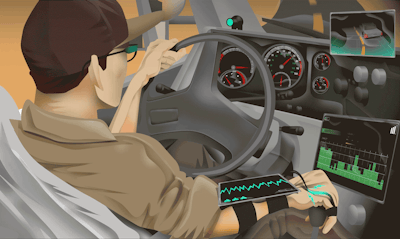 CCJ sister site Overdrive published in March and April a two-month, multi-part series on what the future may hold for the U.S. owner-operator, the one-truck business model and the future of trucker monitoring.
Overdrive's "Tomorrow's Trucker" series first focused on the evolution of the single-truck business model, likely major regulatory reform, the day-to-day tasks of tomorrow's trucker and shifts in the truck driver pay model. The second part of the series explores accelerations in driver monitoring systems, biometric health readings, the availability of massive data sets and more, and how that will give way to constant monitoring by fleets — and regulators, likely — of drivers, their habits and their fitness to operate a tractor-trailer.
Both installments can be found here.
Last year, CCJ published the "Trucking's Future Now" series, which focused on the key changes to transportation that likely will happen in the coming decades, from driverless vehicles that diagnose themselves to smartphones that analyze driver health and wellness, as well as technological, infrastructure and societal changes.