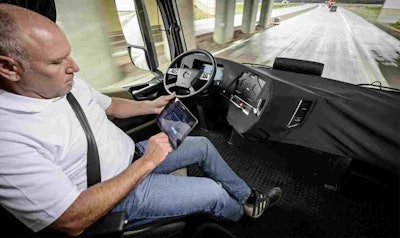 According to a recent study by the University of Michigan Transportation Research Institute (UMTRI) conducted by UMTRI researchers Brandon Schoettle and Michael Sivak, investments being made in autonomous driving lie in stark contrast to the wishes of the people who will be affected most by it – the motoring public.
The university recently polled 618 people – each identified as U.S. licensed drivers 18 years and older by SurveyMonkey's audience tool – with nearly 46 percent saying they preferred no vehicle automation at all. Another nearly 39 percent were willing to sign-off on partial vehicle automation. The prospect of full vehicle automation scared the hell out of all but 15.5 percent of respondents.
"In two different questions, respondents were asked how concerned they would be about riding in a completely self-driving vehicle and a partially self-driving vehicle. The respondents were more concerned about riding in a completely self-driving vehicle than in a partially self-driving vehicle," the report, which builds on a recent series of eight reports addressing public opinion, human factors, and safety-related issues concerning self-driving vehicles, says. "For example, 37.2 percent were very concerned about riding in a completely self-driving vehicle (and 66.6 percent were very or moderately concerned), as opposed to 17 percent for a partially self-driving vehicle (with 50.7 percent being very or moderately concerned). Conversely, 9.7 percent were not at all concerned with riding in a completely self-driving vehicle, as opposed to 16.5 percent for a partially self-driving vehicle."
Not surprisingly, the availability of vehicle controls were a huge sticking point, with nearly 95 percent of all respondents wanting a steering wheel plus gas and brake pedals available, even in completely self-driving vehicles.
The 2016 study was Round 2 of a 2015 report, which asked respondents the same questions a year earlier. Surprisingly, as we inch closer to making autonomous technology a viable "thing," drivers appear to want it less. In 2015, 43.8 percent of respondents wanted no self-driving capabilities. That's two percent fewer than in 2016. Partially self-driving tech in 2015 was okayed by 40.6 percent of respondents, another nearly 2 percent more than 2016.
The only category remaining anything close to flat were the number of people who were okay with autonomy (15.5 percent in 2015 vs. 15.6 in 2016).
If 85 percent of respondents want nothing to do with autonomous cars, it shouldn't come as a surprise that even more want nothing to do with self-driving heavy trucks. In a similar report, Schoettle and Sivak found that nearly 95 percent of U.S. motorists responding to their survey had some level of concern sharing the roads with autonomous trucks and trailers. Nearly 60 percent were "very concerned," nearly 25 percent "moderately concerned" and 12.2 percent "slightly concerned." Among the countries covered in the report (China, India, Japan, U.S., U.K. and Australia), American motorists were the most concerned with self-driving Class 8s on the highway.
For comparison, people were 10 percent less concerned by automated buses and public transportation.
Consumer skepticism isn't going to slow these innovations. That self-riding horse is already out of the barn. With every passing day that doesn't see a "robot car" become self-aware and go on a Judgement Day rampage, sentiments will ease. But it's interesting to see that as more players get into the game – Toyota, Uber, General Motors, Google, Lyft, among several others – the higher trepidation trends currently on the roads.