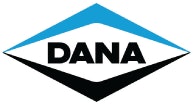 Dana Holding Corporation says, effective Aug. 1, the company will change its name to Dana Incorporated in an effort to better reflect how the company conducts its business in the global marketplace.
"This is a historic and significant pronouncement by our company," says James Kamsickas, Dana president and CEO. "Dana operates as a unified global manufacturer and supplier of goods and services to the vehicular industry. Our new name connects with the cohesiveness of the Dana team members and our united commitment to provide exceptional performance to our stakeholders."
Dana will continue to operate four business segments focused on power conveyance and energy management solutions for three key end markets. The company logo, the Dana Diamond, will remain as the corporate mark. In addition, the New York Stock Exchange ticker symbol DAN, the organizational structure, and leadership team will continue.
The new name will be reflected on the company website, www.dana.com, and online social media channels: Facebook, Twitter, LinkedIn, and Google+.