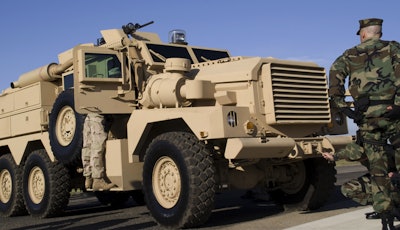 The Federal Motor Carrier Safety Administration proposed Aug. 19 a FAST Act-stipulated pilot program that will allow some under-21 truckers to operate across state lines, so long as they have military experience driving large vehicles.
Currently, under-21 CDL holders are restricted to intrastate driving.
The agency is seeking public comment for 30 days, starting Monday, before it launches the pilot program, which will allow a limited number of military-trained drivers between the ages of 18 and 21 to operate commercial motor vehicles in interstate commerce.
The drivers in the group, known as the study group, will have to be sponsored by a motor carrier participating in the program, FMCSA says, and their safety records will be recorded through the duration of the three-year pilot program.
After the three years, FMCSA will compare the safety records of the pilot group to the safety records of drivers who are 21 years old or older that have comparable training and experience in driving vehicles that require a commercial driver's license. These drivers will be part of the control group. The agency says the comparison of the two groups' safety records will help determine if age is a "critical safety factor."
FMCSA says it's looking for approximately 200 participants for the study group, many of which will likely be reservists or National Guard due to the fact that active duty military members are usually close or over the age of 21 when they leave the service. For every 18-21 year old driver a carrier receives FMCSA approval to participate, the carrier also has to submit an existing employee for inclusion in the control group to keep both groups equal.
Participating carriers will be required to install electronic logging devices on all vehicles used by the study group and the control group, FMCSA says. The agency is also considering requiring carriers to have onboard monitoring systems to collect data. FMCSA adds that any safety-critical events recorded by the onboard monitoring systems could "provide valuable information on drivers' operating performance."
FMCSA is seeking public comment for this proposed pilot program and requests that the following seven questions be answered in the comments:
Are any additional safeguards needed to ensure that the pilot program provides a level of safety equivalent to that without the age exemption?
Would carriers be able to obtain enough volunteer drivers to serve in the control group?
Do "comparable levels of training and experience" need to be defined more precisely? If so, what levels would you suggest?
Are traffic violations, crashes and inspection violations adequate to allow a comparison of safety records? If not, what other safety performance measures should be included?
If drivers reach age 21 while in the study group, should they be removed from the pilot and replaced with a different driver meeting the eligibility criteria?
Are the data collection efforts proposed so burdensome for carriers as to discourage their participation?
Are there carriers currently using onboard monitoring on all their CMVs that are willing to participate in the study? Is onboard monitoring of pilot program drivers needed to assess their safety performance?
The full language of the proposed pilot program, including requirements for carriers, study group drivers and control group drivers, can be found online here after it's published Monday, Aug. 22. Comments can be made beginning Aug. 22 by searching Docket No. FMCSA-2016-0069 at www.regulations.gov.