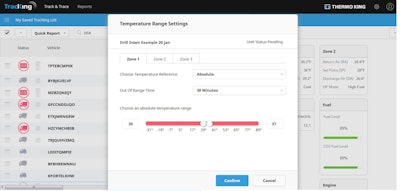 Thermo King announced a new, redesigned TracKing web platform for fleet customers with temperature sensitive cargo and trailers during the McLeod Software User Conference, held Sept. 18-20, in San Antonio, Texas.
Thermo King has been in the trailer telematics business since 1997, starting with a satellite-based system for tracking locations and reefer status information. In 2009 the company released a cellular version through partnership with Celtrak, a telematics provider it later acquired in 2015.
Its new TracKing website improves functionality and usability with a number of drop-down filters that let users customize their screen views and alerts.
One new feature is dual-screen viewing that lets users see all trailers in their fleet on a map on one side, with alarms and individual trailer details on the other — all without leaving the main page.
Quick Reports can be accessed from a drop down list of standard and customizable report options, and a new interactive temperature graph lets users zoom into specific temperature and reefer events for cargo traceability and verification.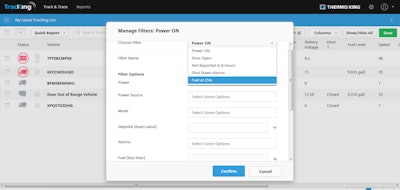 Gayatri Abbott, telematics product manager for Thermo King North America, directed the development of the new TracKing web platform, which also has two-way reefer command and control features that allow users to change temperature set points remotely.
Thermo King has other telematics offerings that use the same telematics web platform. They include TrailerTrak, a GPS-based trailer management system for non-refrigerated fleets, and TempuTrak, a stand-alone tracking device that
monitors temperature, asset location and door openings, and
operates independently from the reefer controller.