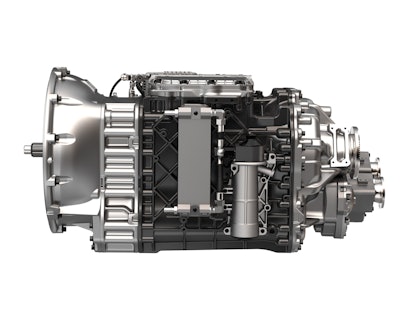 Mack Trucks announced at World of Concrete in Las Vegas Tuesday it will make rolling start and auto neutral standard on all Mack mDRIVE and mDRIVE HD transmissions.
Mack mDRIVE rolling start allows drivers to shift the transmission into drive without pressing the truck's service brakes, a function handy for paving applications as it eliminates the possibility of creating a bump in the paving surface.
Several construction applications, including concrete mixers, also rely on remote throttle controls. By automatically shifting the mDRIVE into neutral when the parking brake is set, Mack mDRIVE auto neutral helps improve jobsite safety by reducing the possibility of the truck moving due to throttle application.
Last year, Mack says mDRIVE and mDRIVE HD penetration reached record levels in Pinnacle Axle Back and Granite models sold in the U.S. and Canada, with 80 percent and 20 percent penetration respectively. mDRIVE was the most dominant transmission across Mack's complete lineup of heavy-duty trucks in 2017 for the first time ever.
In 2016, Mack expanded its mDRIVE HD offer with two new versions featuring low-ratio creeper gears. The Mack mDRIVE HD 13-speed offers a low reduction gear ratio designed for easier starting on steep grades or when the truck is under heavy load. The Mack mDRIVE HD 14-speed, available only in an overdrive configuration, adds a second ultra-low-speed reduction gear designed for curb pouring applications or low-speed, heavy-haul maneuvering. Both transmissions offer up to four reverse gear ratios.