CCJ's Indicators rounds up the latest reports on trucking business indicators on rates, freight, equipment, the economy and more.
---
Trucking employment stumbles for first time since July: The for-hire trucking industry's total employment fell by 1,400 jobs in January, according to the Department of Labor's monthly employment report.
The DOL also downwardly revised December's trucking employment total, showing about 5,000 fewer jobs than previously reported for December. Still, industry employment grew every month in the second half of 2016, the DOL reports.
The U.S. economy as a whole in January added 227,000 jobs, and the country's unemployment rate fell slightly to 4.8 percent.
Trucking industry employment totalled 1.4625 million, up from last January's 1.4554 million.
The broader transportation and warehousing sector lost 4,000 jobs in the month, per the DOL, but the even broader trade, transportation and utilities sector grew by 44,000 jobs.
The manufacturing sector added 5,000 jobs in January, while construction jumped by 36,000 jobs.
---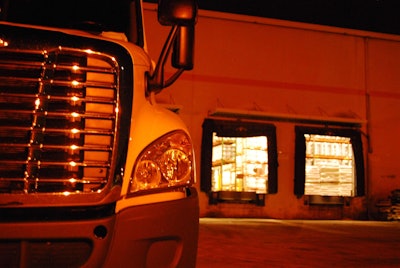 Negative conditions for shippers means better conditions for truckers: Market conditions for shippers improved slightly in November, says research firm FTR, but the 2017 outlook points to steadily worsening conditions for shippers — and stronger market leverage for carriers.
FTR's Shippers Conditions Index in November ticked slightly higher. An expected tightening of the trucking industry's capacity, climbing oil prices and inflationary growth will put downward pressure on those conditions, says FTR, and will swing rate leverage in favor of carriers.
"Although many shippers are saying, 'We will believe it when we see it,' our thesis that truck capacity will tighten significantly over the course of 2017 remains intact," says Larry Gross, partner and senior consultant at FTR. "Some may believe that the course of this mainly regulatory-driven event will be altered by the Trump administration, but our expectation is that the key change, namely the mandate for ELDs, will take effect in December as planned. This will cause substantial deterioration in the [index] over the course of this year. While the pace and even the magnitude of the deterioration is still somewhat uncertain, shippers would be wise to lay in contingency plans for dealing with this significant event."