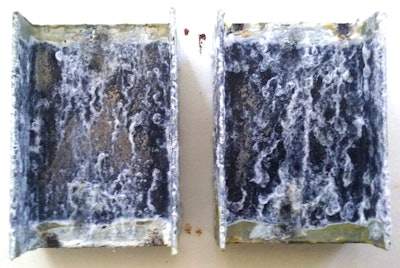 Trailer OEMs have deployed many methods to fight chassis corrosion but at least one of them, according to a recent lab test, falls short.
In salt spray exposure tests following American Section of the International Association for Testing and Materials (ASTM) B117 standards, Daubert Chemical – a manufacturer of specialty coatings and adhesives – compared galvanized steel I-beams to I-beams coated with Daubert's Nox-Rust 1210HP wax-based coating.
"Questions about the use of galvanized steel chassis components have arisen among truck and trailer OEMs in recent years," says Mike Duncan, Ph.D., vice president technology for Daubert Chemical. "As we discussed the topic with our customers, we realized that nobody had done a definitive study on the subject, and that's when we decided to undertake formalized testing."
After 1,000 hours of exposure to the saline spray, test results showed the galvanized steel I-beam underperformed when compared to the I-beam coated with Nox-Rust 1210HP wax-based coating.
The continuous salt spray exposure caused the galvanized sample to begin visibly shedding its protective zinc coating in the form of zinc oxide, commonly known as white rust.
The zinc coating used in the galvanizing process is known as a sacrificial anode because it corrodes first, in preference to the metal substrate it is designed to protect. Galvanized steel is only protected as long as the zinc coating is in place.
A wax-based coating, like Nox-Rust 1210HP, Daubert Chemical says is hydrophobic and repels water molecules, preventing the oxidation that can be caused by moisture contacting the metal beneath its protective layer.
"The idea that corrosion can be avoided by building a trailer using galvanized components is a myth," Duncan says. "You simply can't take corrosion out of the equation with galvanized steel, but you can successfully manage corrosion on all exposed metals, including galvanized, very cost-effectively with hot-melt wax-based coatings like Nox-Rust 1210HP."
The trailer assembly processes – attaching landing gear, slider suspension boxes, wing plates, lighting brackets, etc … – often includes welding, grinding and drilling operations that can dislodge the zinc coatings on galvanized steel, causing hazardous particulate matter to become airborne, Duncan notes.
Daubert Chemical says its Nox-Rust 1210HP coating is self-healing and the coating is also available as a touchup that can be applied to areas where the coating has been damaged in the assembly process.