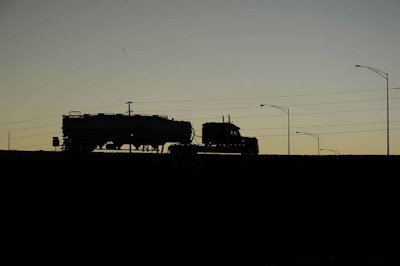 Though President Trump's choice to run the Department of Transportation, Elaine Chao, has been confirmed by the Senate and begun work at the DOT, there's still a litany of posts Trump must fill at the DOT, including naming a new administrator of the Federal Motor Carrier Safety Administration.
The post had been occupied by Scott Darling for about two years. His last day in office coincided with President Obama's.
Since, and until Trump gets around to naming a new boss at FMCSA and the Senate confirms him or her, Deputy Administrator Daphne Jefferson has been running FMCSA, says agency spokesperson Duane DeBruyne.
Jefferson "possesses all the authority of the administrator as long as the position is vacant," says DeBruyne. "[She's] able to make all decisions seeing to the normal operation of the agency until an acting administrator or a Senate-confirmed appointee arrives on-scene."
After Jefferson, Chief Safety Officer and Assistant Administrator Jack Van Steenburg is second in command, says DeBruyne. The two are the most senior career employees at FMCSA, he says.
Jefferson has been the Deputy Administrator at the agency since February 2015. She's held numerous government positions over the years, including the positions of Counselor to the Chief of Staff at the U.S. DOT in the Office of the Secretary and Deputy Assistant Secretary for Administration in the Office of the Secretary. From April 2011-2013, she was Associate Administrator for Administration at FMCSA.
Trump has not indicated when he plans to nominate an administrator for FMCSA. An inquiry to the DOT press office about the timeline of the appointment was not returned.