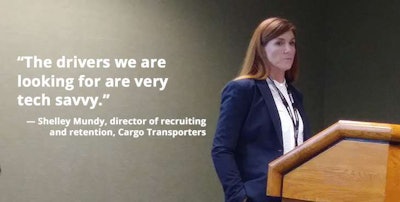 Trucking industry data show that 30 percent of new driver hires quit within the first 90 days and 50 percent during the first 6 months on the job.
One strategy that Cargo Transporters uses to beat these odds is to focus on recruiting a certain breed of drivers.
"The drivers we are looking for are very tech savvy. They want to drive a truck that has satellite TV, radio, a refrigerator and inverter. And they do not want to use their own Wi-Fi," said Shelley Mundy, director of recruiting and retention of Cargo Transporters.
Mundy shared this and other advice to curb early driver turnover during a breakout session on Driver Onboarding, May 23, at the CCJ Spring Symposium in Ashville, N.C., at the historic Grove Park Inn.
The driver onboarding process should be geared to acclimate new hires and help them gain confidence that they can and will succeed, said Mundy. She discussed how the company uses an online platform to decrease the time drivers spend in orientation training from 3.5 days to two. Training is pre-recorded so as to be structured, formal and engaging. All of this helps to "get people up to speed quicker," she said.
Whereas drivers used to come in on Mondays to start, now they can arrive any day of the week. This flexibility has helped retain drivers who might otherwise look elsewhere to avoid losing pay when changing jobs.
The program is self-paced and delivers a consistent message. The program has enabled the carrier to improve scheduling by getting drivers in for orientation on different days of the week and to better coordinate with operations to line up outbound loads when they finish.
Cargo Transporters started the online training program in August, 2016. During that time, terminations due to driver safety events have dropped by 50 percent. Turnover at the 30 and 60-day mark has declined as well.
During the breakout session, Mundy outlined four building blocks of a successful driver onboarding program:
Compliance. During the two-day orientation period, Cargo Transporters covers important topics for safety and compliance with hands-on training for student drivers through its finishing program.
Clarification. Recruiters are very clear on the definitions of terms they use with drivers to manage expectations. For example, a "weekend at home" does not mean Saturday and Sunday, she said. The operations definition is arriving home on a late Friday night and leaving on Sunday. Mundy says that recruiters also take time to explain paid and non-paid activities such as customer detention versus parking.
Culture. The culture at Cargo Transporters "comes from all the technology we have," she said. "We do a good job of promoting that." Yet management is mindful that the culture creates expectations. "If a message is not getting answered that changes (drivers') whole mindset of our culture," she said.
Connection. To help new drivers feel connected with the company, recruiters stay in touch with drivers during the onboarding process. "We let them know we are driver advocates. We will go in with drivers to mediate with fleet leaders," she said. Mundy also stressed the importance of using social media to stay connected with drivers.
As another way to help drivers be engaged, the company holds monthly roundtable meetings with executives. Drivers are required to attend at least two during the onboarding process.
"It's a time for our staff to exchange best practices. Drivers get an update on our business levels and new customers," she said of the monthly meetings, adding that they "have really improved our company. It is a very productive time for drivers to sneak behind the curtain and see what our management staff is doing."
Another important step is to make the first day on the job special for the driver. Drivers are walked to their assigned truck by their fleet leader. Their trucks are fully detailed and equipped with EpicVue satellite TV and a Bose Ride seat, among other creature comforts. Cargo Transporters is based in Claremont, N.C., and operates 525 power units with a specialty in time-definite and expedited service.