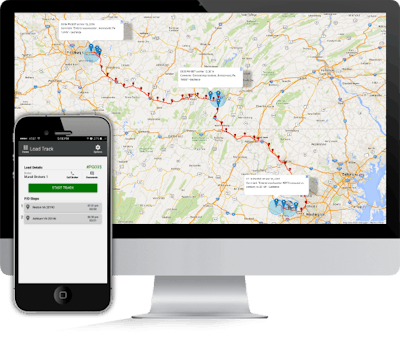 As freight tracking software becomes more common in the transportation and logistics industry, Trucker Tools reports a surge in demand from companies looking to differentiate their services with next-generation mobile technology.
Independent freight agents are a segment of the market where Trucker Tools says it is seeing increased demand for its Load Track platform. Agents often have access to competing freight tracking products from transportation companies whose FMCSA authority they operate under, but prefer using the on-demand Load Track platform.
"Load Track stands out among other freight tracking products because it eliminates the friction in freight transactions for shippers, brokers and carriers," said Prasad Gollapalli, founder and chief executive officer of Trucker Tools.
Load Track is embedded in the free Trucker Tools driver smartphone app and captures continuous, real-time shipment visibility. The tracking process automatically begins when a driver is dispatched on a load and continues to final delivery.
The Load Track platform automates arrival and departure notifications; provides instant two-way driver messaging; and simplifies the data and document capture process, he says.
"Collectively, these features help brokers eliminate fraud or 'double brokering,'" Gollapalli explains. "The Load Track platform further eliminates friction by identifying and validating driver detention events and by speeding the freight payment process."
The Crosson Agency has 30 employees and moves 450 loads per week, on average, with $32 million in annual revenue. An independent agent of a large transportation provider, the Gadsden, Ala.-based company has a custom software program with Load Track integration to deliver seamless, real-time freight visibility across its 24/7 operations.
FedEx is one of its customers that benefits from the integrated platform.
"With technology there is always something new on the horizon, but Load Track is the most innovative and useful freight tracking system in the market. We have been very pleased with the solution Trucker Tools provides us to differentiate our services for customers like FedEx," said Lacey Crosson-Cornelius, vice president.
Artisan Logistics, a Columbia, S.C.-based transportation and supply chain solutions provider, uses Load Track as an integrated platform with its custom freight management system. An agent for a large, asset-light transportation firm, the company differentiates its services by sending automated shipment tracking alerts to customers at certain intervals.
The email alerts contain a "View Tracking" link for customers to monitor live shipment status on a visual map display. Artisan Logistics also uses its integrated Load Track platform to send automatic updates to customers via standard EDI messaging.
"In the trucking marketplace you have to find ways to create value and Load Track is a game changer for us," said Dennis Brannon, CEO and owner of Artisan Logistics. "We looked and couldn't find this functionality anywhere else."
For Holly Transportation, Load Track has proven especially valuable for customers with high-value shipments. Using the advanced digital map with pinpoint location accuracy, Holly Transportation monitors shipments to ensure drivers stay on designated routes and stay with their equipment at all times.
"Accuracy and dependability set Load Track apart," said Monty Byrd, owner of the Dallas-based company that is an independent agent for a leading transportation company. "Our customers are impressed by our capabilities to monitor high value freight and hazardous shipments that require an extra level of security."