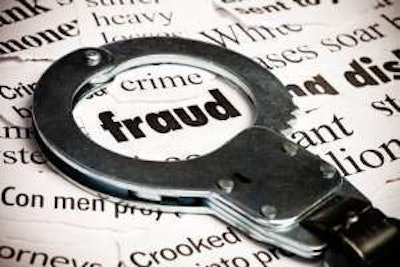 Action in five trucking-related crimes has recently been reported by the Department of Transportation's Office of Inspector General and New Jersey's NJ.com, including a CDL testing scheme, a DOT drug testing scheme, tax evasion by a trucking company owner, a carrier operating without authority and a trucking company illegally hauling radioactive materials.
Georgia DOT drug, alcohol screener pleads guilty
Jo Carol White, a DOT-approved drug and alcohol screener, pleaded guilty June 27 to falsification of records with intent to impede the proper administration of the DOT.
The investigation started with the Federal Motor Carrier Safety Administration, which alleged White was not conducting proper DOT-required drug testing and medical exams on CDL applicants.
Investigators found that White and others falsified medical exam reports and medical examiner's certificates.
Utah man sentenced in CDL testing scheme
Antonio Tinti was sentenced July 5 to 36 months of supervised release and a $100 assessment for his role in a CDL testing scheme. OIG says Tinti pleaded guilty on April 12 to making a false statement related to the administration of a CDL test.
The agency says he administered CDL driving tests and falsely certified that the drivers completed the road test when they had not.
Part of Tinti's sentence prohibits him from working as a CDL test administrator or any other employment associated with trucking education, and is also required to forfeit any certifications or licenses to perform the work. Additionally, he is banned from being employed by or affiliated with, the trucking business without the approval of the U.S. Probation Office.
New Jersey trucking company owner pleads guilty to tax evasion
NJ.com reports Giacomo Giorlando, owner of 4 G's Trucking, pleaded guilty to three counts of tax evasion and one count of bankruptcy fraud for allegedly inflating the expenses of his company to avoid paying more than $460,000 in taxes.
The report states Giorlando filed for bankruptcy in 2014 while hiding at least 11 bank accounts he used to mix business revenue and personal funds. NJ.com also reports he admitted he was responsible for a $460,012 tax loss in 2011, 2012 and 2014 by concealing taxable income in those accounts.
Giorlando's sentencing is set for Nov. 17, and he could face up to 5 years in prison on each count and a $250,000 fine, according to the report.
Ohio fleet pleads guilty to operating without authority
Enson Trading LLC, doing business as Eternal Food Service, pleaded guilty July 11 to trucking safety violations and failing to report large cash transactions. OIG says the company agreed to pay a fine of $525,000 and to forfeit $215,012.55.
EFS, a wholesale food storage facility and motor carrier out of Cincinnati, reportedly received $12,173.54 in cash from a customer without filing proper documentation to the IRS. OIG also reports between June 2010 and July 2014, EFS conspired with at least five other fleets to seek new safety registrations to reincarnate and continue operations to avoid FMCSA out-of-service orders.
Puerto Rican fleet fined for illegal transport of radioactive materials
Fraticelli Trucking Company was sentenced July 11 to pay a $20,000 fine after pleading guilty in May to illegally transporting cobalt 60, a class 7 highly radioactive material.
The investigation found that the company transported cobalt 60 on a commercial highway without conducting the required pre-trip inspection. OIG says Fraticelli "willfully transported" the material without conducting proper pre-trips on at least four separate occasions between December 2011 and March 2014.