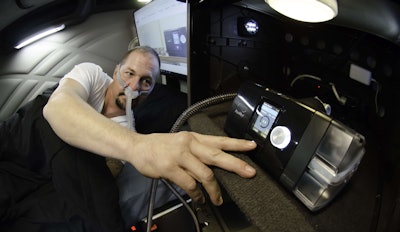 The Senate's top Democrat, Minority Leader Chuck Schumer, has asked the U.S. DOT to "immediately reverse course" on its recent decision to withdraw a rule that would have set sleep apnea screening criteria for truck operators.
In a statement issued late last week, Schumer (D-N.Y.) called on the Federal Motor Carrier Safety Administration to "get the [rule] and this process back on track."
"It's high time to move forward with making sleep apnea testing a federal requirement, no ifs, ands or butts about it," he said. "We don't want big rig drivers to doze off at the wheel."
Schumer's statement has no legal bearing.
The agency's rule, which it formally scrapped last week, would have set in place criteria for medical examiners to use to determine which drivers should be referred for sleep apnea tests. Testing, and treatment if necessary, would be needed before an examiner could issue a medical certification.
FMCSA hadn't formally proposed any screening criteria. The agency published a so-called "pre-rule" in early 2016, seeking industry input on the prevalence of obstructive sleep apnea and costs associated with testing and treatment. The agency also held listening sessions to gather input from industry stakeholders. The pre-rule was the initial stage of the rulemaking process meant to institute formal sleep apnea screening criteria and protocol for testing.
The agency's withdrawal of the rulemaking last Tuesday ended that process. The agency can choose to initiate a new rulemaking if it chooses, however.
FMCSA said in June that it did not have enough information available to proceed with a rulemaking. Schumer said the DOT's decision to withdraw the rule "commemorates a disaster waiting to happen."
A sleep apnea rule would give clarity to the industry and examiners about what conditions should prompt a driver to be referred for sleep apnea testing. With the withdrawal of the rule, the status quo remains — the discretion lies with medical examiners to determine whether to refer a driver for in-lab testing.
Such tests can be costly for fleets and drivers. A rule, while potentially forcing some drivers into testing that wouldn't have been referred otherwise, would also prevent drivers — and fleets, to an extent — from incurring costs for testing due to medical examiner's' discretion.