CCJ's Indicators rounds up the latest reports on trucking business indicators on rates, freight, equipment, the economy and more.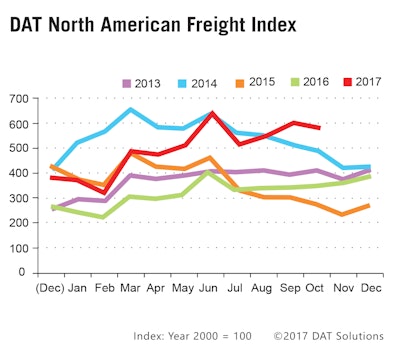 Hurricanes, economy continue to drive spot market freight gains: Freight demand on the spot market in October continued a 17-month streak of year-over-year increases, according to DAT's monthly North American Freight Index, released last week. Freight volume on the spot market grew 65 percent compared from October 2016, despite a small dip from September 2017 volume.
Flatbed led all segments with a 105 percent year-over-year increase, driven by post-hurricane recovery efforts in Texas and Florida, DAT says. Flatbed freight volume was up 5 percent from September. The gains pushed rates in the segment up 5 cents from September and 41 cents from last October.
Reefer volume grew 68 percent from last October, but dipped 5 percent from September. Rates in the segment climbed to their highest point in almost three years, since December 2014, DAT reports, with linehaul rates (sans fuel surcharges) at their highest since 2010. The trend should continue in November and December, DAT says, with demand for fresh and frozen foods peaking around Thanksgiving and Christmas.
Van volume grew 66 percent compared to last October despite a 3 percent decline from September, but dipped 8 percent from September. Rates still climbed 5 cents a mile in the segment from the month prior and 37 cents from the same month last year.
'Trucking Conditions' gain steam too: Market conditions for truck fleets, as measured by FTR's monthly Trucking Conditions Index, moved further into positive territory in September, with a "coming spike" expected, says FTR.
Strong freight demand should keep the index "solidly positive through 2018," FTR notes in its report. Though economic growth has been slow, albeit steady, since the 2008-2009 recession, trucking growth has outpaced U.S. economic growth, expanding at a 3 percent annual average, says FTR.
"The trucking market is showing multiple signs of strengthening. From surging order activity for new class 8 trucks to spot market freight rates that hit 30 percent increases versus last year, trucking companies are displaying signs of improving conditions," says FTR Chief Operating Officer Jonathan Starks. "Contract pricing has finally started to show signs of awakening following nearly six months of strong spot price increases and the weather-fueled surges of recent months. While we have seen a moderation in the spot market environment over the last month, rates continue to be up over 20 percent, and capacity continues to remain tight."