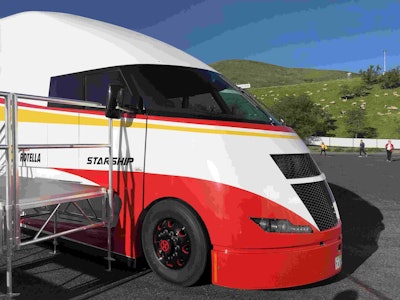 Unlike tractor OEMs, trailer manufacturers and component suppliers that can point to tangible fuel-saving benefits made of aluminum and steel, the differences among performance and product characteristics from lubricant companies are literally sub-microscopic, occurring only at the molecular level. On the subjects of fuel savings and freight efficiency, it can be hard for lubricant companies to get into the conversation.
Shell Lubricants aims to change that. In 2015, it partnered with Bob Sliwa, owner of AirFlow Truck Company, to design and build the Shell Starship concept truck. The two companies believe the hyper fuel-efficient tractor-trailer combination will show what is possible when transportation companies, OEMs and suppliers collaborate together to engineer fuel-efficient products to meet future legislative and regulatory requirements.
With or without any federal or state (ahem, CARB) requirements, future demographic shifts alone will require more efficient transportation. "Even though we are better at making things more efficient, energy demands continue to go up," said Bob Mainwaring, Shell Lubricants technology manager for innovation and Starship technology lead, at the Shell Make the Future event at the Sonoma Raceway in Sonoma, Calif. He said carbon dioxide emissions from commercial trucks equate to roughly 40 percent of carbon dioxide emissions generated by all vehicles. And as the global population rises from 7 billion to 9 billion by 2050, the amount of people that will live in cities will grow from 50 percent to 75 percent in that same time.
While there are some interesting tweaks and improvements, the Starship Project relies heavily on existing technologies that help lower emissions and increase freight efficiencies.
"This class 8 truck is proof that small improvements over time can make a significant impact in reducing emission and increasing efficiency," said Bruce Culpepper, president of Shell Oil Company. "We truly believe that we are in an energy transition already. Shell isn't running away from it, we are running towards it. We think we do that with trial and error, by practicing together and collaborating and co-engineering things together."
The Shell Starship features a carbon-fiber body built around an International ProStar chassis and frame. The drivetrain pairs a Cummins X15 engine with an Eaton 18-speed automated manual transmission. Shell contributes a full line of lubricants, including a yet-to-be-introduced FA-4 full-synthetic 5W-30 fuel economy lubricant.
"It's a lower-viscosity oil and takes less energy to pump throughout the system and therefore provides a fuel economy advantage," said Dan Arcy, OEM technical manager for Shell Rotella, adding Shell expects to see the engine oil to improve fuel economy as much as 2 percent.
"Every engine will have an overhead of friction, which is energy being dissipated as heat through friction within the rotating parts," explained Mainwaring. "The fact that lubricants matter and can help operators save money, help OEMs comply – elevating that message in the heavy-duty space is important to us as well."
On-hand at the Sonoma Raceway to provide an example of Shell's co-engineering and collaborative efforts was Röchling Automotive's Ryan Forman, product manager, aerodynamics and engine encapsulation systems. Röchling developed a specially engineered active grille shutter system for the Starship truck to reduce aerodynamic drag while maintaining optimal cooling capacity. Forman says the biggest challenge for widespread adoption of any fuel-efficient component is achieving multiple benefits to improve cost justification.
"What we've looked at in regard to the pure functionality of the part is the additional benefits," said Forman. "If you can combine two or three vehicle benefits with one component, it helps justify the cost, it helps reduce the investment and also helps in regard to promoting new technologies and making it more widespread."
Later this month, the Starship truck will complete a coast-to-coast route along Interstate 10 from San Diego to Jacksonville, Fla, to measure the capabilities of combined fuel-saving technologies based on ton-miles per gallon. The results will be third-party verified by the North American Council for Freight Efficiency and will be announced at a special ceremony in early June.