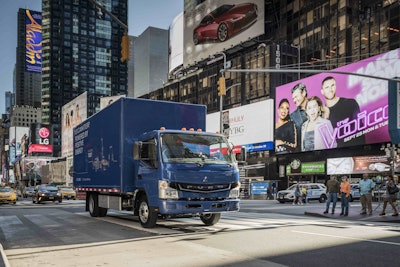 Driven partially by the rise of e-commerce, the average length-of-haul for trucking has fallen more than 34 percent over the last 17 years.
American Trucking Associations Chief Economist Bob Costello says the for-hire truckload dry van average length-of-haul has dropped from nearly 800 miles in the year 2000 to 524 miles in 2017.
"Since 2000, large big-box retailers had a handful of distribution centers around the country, but today they have dozens," he says. "More distribution centers has reduced the average length of haul into and out of those centers."
Kenworth Marketing Director Kurt Swihart says he's not seen any major trends of truckload customers moving significantly into the less-than-truckload or local pickup and delivery businesses, but changes in the distribution model – where you have an increasing number of distribution centers outside urban areas that use trucks for more for regional haul and final mile applications – has sent some fleets back to the drawing board with truck specs.
"We are starting to hear more conversations from customers on how they should spec vehicles differently," says Navistar On-highway Marketing Director Jim Nachtman.
The reason for boosting more distribution centers, Costello says, is due to more online retailing. "If I order something in the Washington, DC metro area and expect it in two days, it's not coming from California," he says. "It is coming from somewhere not too far away."
On-demand shipping isn't the only factor driving change. The competition for drivers, namely getting them home, is also changing freight patterns.
Wesley Slavin, Peterbilt's on-highway marketing manager, says the company's customer council has noted a regional shift in marketplace, but says "manufacturing [location] hasn't moved and the end user hasn't moved. They haven't gotten closer together. What's happened is fewer carriers are going from dock-to-dock. Maybe they're dropping halfway and another driver takes it the rest of the way."
Such a dramatic change in traffic patterns has also influenced equipment trends. According to IHS Polk, day cabs made up 27 percent of the North American market in 2008. By 2013, day cabs reached 37 percent of the market before leveling off to about 39 percent in 2016 and 2017.
Nachtman says currently, about 40 percent of the trucks International builds are day cabs, and he expects that number to continue to climb.
"All of our predictions show that the amount of vehicles that are day cabs will be going higher and higher throughout next few years," he says. "We do predict going over 50 percent in the next few years will be day cabs."
Similarly, Slavin says the Peterbilt sleeper/daycab split is about 60/40 and climbing.
Even with more day cabs on the road the need to keep the driver inside happy remains.
"The driver environment, whether it's a day cab or a sleeper, needs to be very friendly to the driver," says Stu Russoli, highway marketing manager for Mack Trucks. "If you're doing more local deliveries, I think the question then becomes do you get the more basic fleet-style interior because it's just a tool going point-to-point."
"We're seeing an increase in companies using the trucks as a recruiting tool," Slavin adds, "and that includes regional tractors."
Dating back five years, Freightliner's build rate on day cabs has bounced around 30 percent and Segment Marketing Manager Make McHorse says he doesn't anticipate that changing measurably until the industry is comfortable navigating its way through the electronic log mandate.
"Guys are getting trapped out on the road in kind of a regulatory timeout," he says, "and [fleets] need to have a place for drivers to stay in. You can't do that in a day cab."
Shrinking hauls, Russoli says, have given even more momentum to automated transmissions.
"You're probably doing more backing into docks and moving around smaller parking areas, a lot more stop and starting traffic," Russoli says.
About 90 percent of all new Cascadia are spec'd with an AMT, which McHorse attributes to increased traffic congestion and the extra fatigue that comes with running through a manual gearbox in stop-and-go conditions.
"Most of the guys who really want a manual [transmission] are doing longer hauls," Russoli says.