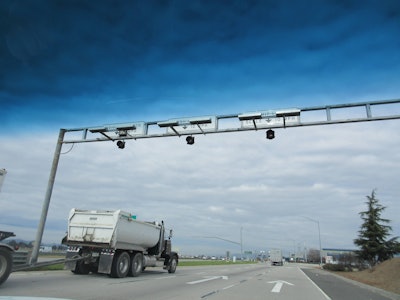 Toll roads may not be as certain as death and taxes but for many commercial and private fleets they are definitely unavoidable.
"You can't avoid (tolls), but what you can do is take steps to minimize your exposure," says Drew Anderson, director of carrier relations for PrePass.
PrePass is best known for weigh station bypass and is one of two companies that offer a toll management service with nationwide coverage using a single transponder.
Bestpass, owned by the Trucking Association of New York, is the other. It has seen demand for its toll management service grow quickly and now has 5,212 fleet customers operating a combined 1.1 million vehicles, says John Andrews, chief executive.
A simpler process
Toll management services help remove the administrative burden for carriers that otherwise would have business relationships with up to 40 different toll agencies nationwide such as E-Z Pass in the Northeast and SunPass in Florida.
Bestpass handles the administrative work of registering vehicles with toll agencies, Andrews says. Fleets also use its reporting tools through a web portal to reconcile geographic information on drivers, vehicles and other operations data with toll usage.
Fleets use a Cost Centers report in the Bestpass web portal, for example, to segregate their vehicles by location and into separate groups for allocating toll costs, he says.
Bestpass also offers toll discounts to smaller carriers that otherwise would not qualify for pricing that toll agencies give to large fleets.
Another reason that fleets use toll management services from PrePass and Bestpass is to streamline the process of disputing toll violations. Toll agencies occasionally miss transponder signals at entry and exit points on roads and may charge the max toll for the full distance of the road.
Another common dispute is a "plate read" toll fee. Some agencies will charge an extra fee when they miss a transponder signal and have to manually identify the vehicle from a license plate photo.
Consolidated reporting
Last year, PrePass announced a business intelligence system for motor carriers called INFORM (Information & Reports Manager). The system has dynamic mapping and visual tools that fleets use to determine where, when and why their Inspection Selection System (ISS) scores might fluctuate and impact their weigh station bypass rates.
PrePass later added INFORM Tolling as a value-added service for carriers using its PrePass Plus service. With a single transponder in vehicles, carriers can bypass weigh stations and roll through toll booths. INFORM Tolling gives its customers central reporting of toll activities for pricing, billing and other back-office functions.
"Whoever manages tolling in a fleet always get questions from people who pay the bills," Anderson says. "Users can provide answers and data to back it up."
INFORM Tolling identifies max toll incidents and trucks that are getting "plate read" tolls, Anderson says. Carriers can enter these and other disputes into INFORM. PrePass will then process and manage the disputes with toll agencies, he says.
The system also identifies when agencies misclassify vehicles and charge incorrect tolls, he adds.
Identifying fraud
In the near future, toll management may include using GPS data to resolve toll disputes and detect instances of fraud and abuse of transponders.
Bestpass is currently developing new reporting capabilities that will use GPS locations provided by fleet customers to validate if toll agencies appropriately charged their vehicles for the distance of toll roads and match transponders with vehicles.
Matching transponder use by drivers to vehicle locations will make detecting instances of fraud and misuse easier, Andrews says.