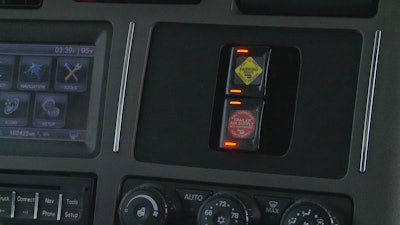 Bendix's Intellipark electronic parking brake control, which the company debuted a year ago this month, will move into fleet trials with an expected launch next year, the company announced Wednesday.
The Intellipark system is an electronic parking brake that automatically engages truck and trailer air brakes if a driver forgets and exits the vehicle, leaving the truck vulnerable to roll away. Bendix says 60 percent of fleets surveyed in a Frost & Sullivan survey said they had experienced a rollaway incident within the previous two years.
Intellipark works through interlocks installed in critical areas, such as the seat, seat belt, or cab door – engaging the brake if the driver leaves the seat or opens the door without setting it first and Bendix Product Manager for Specialty Valves Rebecca Carter says the system uses information available on the vehicle network to allow the parking brake to be released only when an authorized driver is in full control of the vehicle.
Intellipark also delivers features such as Trailer Auto-Park Release, which can automatically release trailer brakes when the vehicle is moving. The Park-at-Speed feature helps the driver to maintain control if the parking brakes are applied while driving. Plus, the system delivers a more durable and ergonomic interface, which is pleasing to drivers.
Since Intellipark is electronic, Carter says it is also positioned for integration with Bendix Wingman Fusion, enabling the use of the parking brakes to further enhance driver assistance functions. In addition, it delivers the parking functions necessary for future autonomous vehicles.
Intellipark features an improved, driver-friendly interface that eases the effort of setting the parking brake, replacing the red and yellow push/pull knobs with switches that can be flipped on and off. The switches display the familiar red and yellow symbols but activate the with less physical effort on the driver's part. This enhanced ergonomic design may also help decrease driver fatigue and prevent repetitive motion injuries. And the easy-to-read interface, which includes LED lights, helps the driver understand the status of the parking brakes on both the tractor and the trailer – prior to leaving the vehicle or heading out on the road.
If the driver misses the LED indication on the user interface or the Trailer Air Warning telltale on the vehicle instrument cluster and begins to drive away with the trailer park brake engaged, Intellipark's Trailer Auto-Park Release will disengage the trailer park brake automatically, reducing trailer tire flat-spotting and wheel-end damage.
Carter says fleets can also use data provided by Intellipark to gain insight when the system activates – to set the parking brake automatically, or to disengage the trailer brakes automatically. For fleets equipped with the SafetyDirect web-portal, that data is transmitted through their telematics provider automatically to fleet offices.
"This enables fleet managers to use the information to help with driver training as part of an overall safety program," says Bendix Director of Customer Colutions – Controls, Fred Andersky.