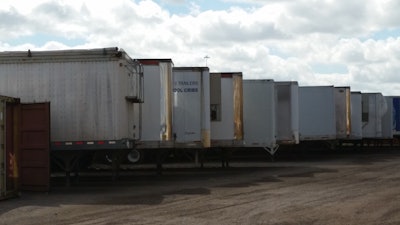 Trailer orders for November hit 45,000 units according to FTR – the fifth highest order month ever and the best November in history. Orders last month fell 17 percent from an impressive October but jumped 5 percent increase year-over-year.
Trailer orders for the past 12 months now total 427,000 units.
"There are still shortages of trailers in some markets as fleets continue to struggle to keep up with growing freight demand," says Don Ake, FTR vice president of commercial vehicles. "Fleets are expecting they will need significantly more trailers throughout 2019."
Trailer orders were elevated for the third month in a row as dry van fleets placed large requirements orders for the second half of 2019. Orders for other trailer segments retreated back to more normal totals, after being near record levels the previous two months.
"At some point, supply has to catch up with demand and that could begin to happen around mid-year," Ake says. "Expect trailer orders to fall for the next few months because most fleets already have their orders in for next year."