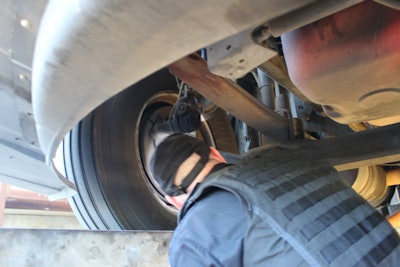 Note: This is the third in a multi-part series that will publish in advance of this year's Commercial Vehicle Safety Alliance (CVSA) International Roadcheck blitz from June 4-6. The first, Highway patrol shares inspection tips ahead of CVSA Roadcheck blitz, can be found here. The second, "Checking steering system leaks and components," can be found here. This year's inspections focus on steering and suspension systems.
Each year during the Commercial Vehicle Safety Alliance (CVSA) International Roadcheck blitz hundreds of trucks are placed out of service (OOS) because of suspension violations.
Last year alone, roughly 500 trucks were sidelined with expensive roadside suspension repairs.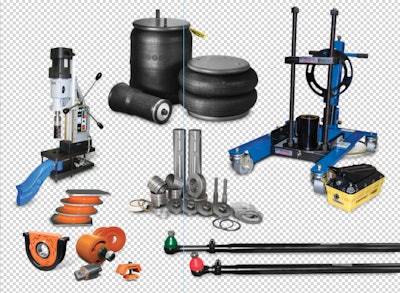 "Most of the time it's going to be the leaf springs," says Florida Highway Patrol Trooper Bobby Simmons, a former mechanic who's inspected thousands of trucks over the past ten years. "I've seen a lot of them crack between the U-bolts and then saw one about two weeks ago that was actually broken up here (about six inches forward of the steer axle)."
Matt Copot, vice president of maintenance at Transervice, says the constant load and constant impact on leaf springs makes them a top priority for maintenance which includes looking out for loose U-bolts, damaged bottom rails and corroded spring hangars.
"You can experience cracked springs or even shifted springs and this will cause significant drivability issues with the tractor," says Copot.
In addition to leaf spring components, Penske's 24/7 Roadside Assistance senior manager Rowland George says to also look for air suspension leaks, worn air bags, torque rod arm bushing wear, worn spring shackle/spring eye bushings and "make sure air lines properly secured, to ensure that they aren't rubbing on anything."
During a truck inspection at the Sneads weigh station on I-10 Simmons points out how protective loom moved on a truck's air line and left it vulnerable to wear as it rubbed up against the axle.
"The biggest thing that we see on air lines is going to be chafing," Simmons explains as he points out a flat, shiny area on the black rubber hose.
Excessively worn lines can warrant an OOS violation. The rubber on this particular hose is not yet worn away enough to reveal the nylon webbing beneath so there'll be no violation.
Following the roughly hour-long Level 1 inspection, Simmons goes over the vehicle report with the driver and tells him about the chafing. He says the truck's air springs were fine but that's not the case for every rig.
"They're rubber. They wear. Over time you'll get a small, pinhole leak," Simmons says.
Besides checking lines and fittings for air leaks, Stemco's suspension director David Brinkman recommends taking a closer look at the air spring itself.
"Check clearance around the air spring to allow for one-and-a-half inches for the increased diameter of the air spring in heavy jounce condition," Brinkman says. "Check around the rubber flex member for irregular wear or material build-up."
Depending on maintenance and duty cycle, Goodyear Air Springs, available through Stemco, should typically have a three to five-year service life, Brinkman explains. Air spring durability can be limited by over-extension, improper inflation and oil contamination in the air supply.
A closer look at shocks
Art Trahan, senior manager for national accounts technical support at Ryder, says that while air-powered systems have noticeably improved suspension through the years, such as reducing broken springs, they can be challenging.
"The only real drawback with the airbag system that I can think of over the years has been the leveling valve," Trahan explains. "If you get a leveling valve that fails and won't allow the suspension to come up to height, you can do a lot of damage depending on the kind of roads they operate on—to the life of the shock absorbers—because you need to dampen that air suspension from bouncing around so you use shock absorbers there."
Worn-out shock absorbers are fairly easy to spot.
"If it's leaking, that's relatively easy to see on a PM inspection," Trahan said. "If you see traces of fluid running down the shock absorber, it's time to get it out of there."
Another way to spot a failing shock is to take its temperature.
"Be sure to never touch hot shocks with bare hands as they can be extremely hot. I recommend using an infrared thermometer to periodically check the heat of each shock,"says TA/Petro's director of technical service Homer Hogg.
"You should only do this immediately after a long trip, while the shocks are still hot. Once you've done so, compare the heat readings of each shock. If one is cold or significantly less warm than the rest, it's possible that it has failed internally."
Putting off replacement for a worn shock can lead to additional problems.
"Inoperative shocks will often progress and cause your tires to develop an uneven wear pattern, shortening the life of those tires and subsequently worsening the already harsh ride created by the bad shock," Hogg explains.
"While they don't require much maintenance, suspension systems should still be inspected during every scheduled PM," Hogg continues. "Inspectors must verify the condition of shocks, springs and mounting to include hangers, leveling valves and all associated lines."
Laurence Shepherd, product technical specialist at Meritor, says during PMs be sure to check and keep torque levels on suspension fasteners within spec, check for worn bushings (including cracking in the rubber), check equalizer and hanger areas for wear, check ride height and examine air lines for leaks.
"Do proper inspections on a regular basis," Shepherd says. "Even minor wear or damage can lead to further damage which will end up costing you more money."
While regular maintenance is key in spotting suspension problems before they lead to out of service violations, drivers also have a big role to play.
"If the trailer has air ride, when the driver does his pre-trip inspection, make sure the air bags have all inflated," Trahan says. "If it's a sprung inspection, check and make sure we don't have any shifted, or cracked or broken or loose U-bolts that can be seen by wear patterns from sliding back and forth. One of the biggest keys is that driver that's in that truck being able to look at that vehicle and see that something is different, something changed."
Lastly, as Trahan like to say, if it moves, lube it. Jim Lana, director of operations at Fleet Group, agrees.
"Periodic inspection and regular lubrication are key elements to making sure that you get the most out of the suspension," Lana says.