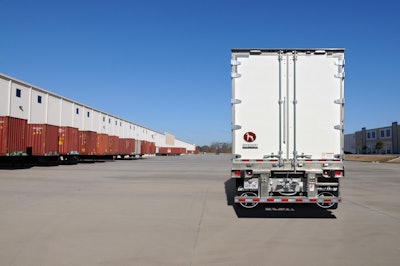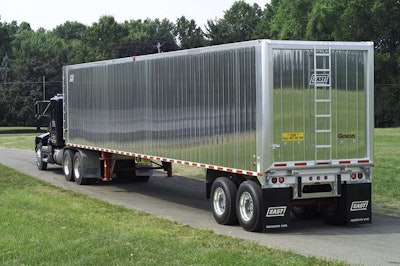 Some trailer manufacturers have tried to help ease the maintenance burden by using more advanced and durable materials during construction. Brett Wilkie, field service engineer for advanced design and material for Wabash National, said component manufacturers also have upgraded factory coating application systems, which have shown to limit areas of minimal coating thickness.
For barrier coatings, polymer-based products such as urethane, epoxy, vinyl, nylon, acrylic, polyester, wax and rubberized undercoatings typically are used. Sacrificial metal coatings such as zinc (hot-dipped galvanized), nickel, galvalume (zinc and aluminum) and biopolymer also are used to fight corrosion, said Chris Lee, vice president of engineering for Great Dane.
Trailers can sit idle for long periods of time, making their steel components highly susceptible to corrosion.
"The trailer (OEMs) have gotten rid of paint on the rear ends," Steve Zaborowski, senior vice president for Xtra Lease, said. "We have all galvanized frames on dry van trailers. We have stainless on the rear frames of refrigerated trailers, and most of our flatbeds are now a combination of aluminum and steel combined. The less steel is the less paint you have to worry about on a vehicle."
East uses 20-milliliter High-Density Poly Ethylene plastic in conjunction with Electrolysis Corrosion Kontrol corrosion-prevention coating during the assembly process for all its trailers. The HDPE is die-cut to match the areas that are covered, and both sides are coated with ECK, which prevents corrosion by sealing out moisture and chemicals and prevents electrolytic galvanic reactions by creating a barrier between dissimilar metals. Its zinc powder and dust absorb corrosive energies.
Wilkie said trailer manufacturers also have adopted hot-dipped galvanizing processes that provide better protection of the steel structure while also extending component life, but he warned that structural repairs can strip away anti-corrosive properties.
"Customers are advised to reapply undercoating to areas that have been repaired or where the undercoating has been disturbed," he said. "To prepare for many repairs to galvanized parts, technicians remove the coating in order to repair the damaged structure."
Wilkie said many service providers are not aware of the process to replace galvanized material, which involves heating and dragging a galvanizing repair rod across the area until the desired thickness has been deposited.
Todd Hobbs, vice president of engineering for East, said the company's shake-proof fasteners come with a Magni 565 coating to improve corrosion resistance. The chrome-free duplex coating combines an inorganic zinc-rich basecoat with an aluminum-rich organic topcoat for added corrosion protection. The two-coat system is formulated to resist fuels and fluids.
Spec'ing expectations
Zaborowski said when buying new trailers, it's important to evaluate newer processes that are designed to mitigate common maintenance issues.
"I think it starts with how you spec the trailer," he said. "We're trying to put features on trailers that combat some of the basic challenges out there."
Last spring, Xtra Lease migrated to air disc brakes, part of an effort to not only improve the fleet's brake life and performance but also extend maintenance intervals.
"Braking systems, and the things that can go wrong with braking systems, is right up there at the top of the list [of challenges]," Zaborowski said. "There's a lot less things that can go wrong with an air disc brake system than there is a drum brake system."
Xtra Lease also specs full LED lighting and composite-plate sidewall trailers that are better protected against yard damage, he said.
For many years, trailers and truck bodies have been constructed with corrosion-resistant high-strength materials such as aluminum, stainless steel, coated carbon steel, engineered plastics and woods, but Lee said they continue to evolve.
"These materials are applied to specific areas such as frames, floors, roofs, doors and sills to prolong trailer life," he said. "Today, some of these materials are being replaced by composites such as a fiber-reinforced polymer resin composite and a combination of engineered metal-plastic composite to improve trailer longevity."
Wilkie said fiberglass and resin systems are proving their merit in terms of durability and repairability.
"Just as the automotive industry has adopted adhesives and bonding as one of the prominent methods of construction, the trucking industry is heading that direction in many instances," he said. "Composite floors in dry vans have been around for nearly 25 years."
"It's all about extending the maintenance intervals and putting the right components in," Zaborowski said. "The systems that are built today are much better than they were 15 or 20 years ago."