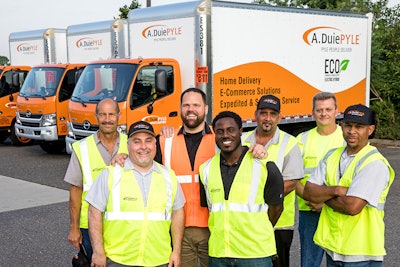 A newly published compilation of ideas to help carriers make the most of National Truck Driver Appreciation Week (NTDAW), Sept. 8-14, is available from Stay Metrics, a provider of driver retention tools for motor carriers.
The Driver Appreciation Week strategy compilation, titled "How to Celebrate Driver Appreciation Week," is on the Stay Metrics website for free. The publication has creative and successful practices drawn from interviews with a wide variety of top fleet executives and managers.
The strategies are organized into five categories with a few of the highlights summarized below:
Compliments and notes of appreciation. The publication has strategies for establishing a workflow that gets all departments involved in expressing gratitude to drivers.
Hoekstra Transportation (Kankakee, IL) thanks drivers early and continues to do it at least a week later. The whole staff is involved and encouraged to give drivers handshakes and one-to-one gratitude.
A. Duie Pyle, an LTL carrier based in West Chester, Penn., recently shared a practice for Driver Appreciation Week with CCJ. It has managers from each division provide their top 3 drivers who have not been recognized in the past three years.
This information is used to create "Employee Spotlights" that include driver photos, years of service, brief background with Pyle, why they like driving for Pyle and something they enjoy doing in their free time.
For a 4-week period starting with Driver Appreciation Week, a carousel is displayed on the company's intranet with every driver. The key accomplishments of each driver are also recognized via social channels including LinkedIn and the company's Facebook page, and the profiles are displayed throughout the year on the company's internal visual signage system at all locations.
Driver family involvement. This section of the Stay Metrics publication has effective methods fleets use to send direct communications to drivers' family members and to utilize social media to boost engagement.
Nussbaum Transportation (Hudson, IL) sends a personalized greeting card to each driver's family. They include a gift card specifically for the family to use, often for Amazon or similar.
Baylor Trucking (Milan, IN) uses Facebook to reach families throughout the year. It uses NTDAW as an additional opportunity to post driver recognition messages knowing that spouses and children will be more likely to see them. Starting the week of August 12, the company began broadcasting live raffle drawings for prizes on its Facebook page. Each day, a different department (customer service, maintenance, etc.) takes turns announcing the winners.
Events held during or around Driver Appreciation Week. This section has suggestions for providing multiple opportunities for drivers to eat, win prizes and participate in fun and creative events to build camaraderie.
Star Fleet Trucking (Middlebury, IN) takes advantage of its community's unique features by celebrating several weeks before NTDAW to take advantage of the Elkhart County Fair, one of the largest county fairs in the nation. They pay for all their drivers and families to enter the gates and hold a large picnic with giveaways, gifts (such as multi-tools, thermoses, blankets, wireless speakers, cell phone holders, and much more), and a lot of extra perks from their partner vendors.
Navajo Express (Denver, CO) holds events all week with breakfast and lunch provided by food trucks, which have amazing quality and variety in a city like Denver. They take a lighthearted approach to the week with events such as a dunk tank with the executive management team taking turns in the tank and driver leaders taking a pie to the face from their drivers.
AIM Integrated Logistics (Girard, OH) makes their NTDAW event a family affair. They hold a picnic with hot dogs and hamburgers that has a carnival-like atmosphere with face painters and other activities. Uniquely, they do not restrict attendance to their drivers and let any driver with a CDL in, making it a great outreach event for the company. Drivers enter giveaways and get a selection of great company swag.
Baylor Trucking makes their celebration a formal dinner event. They invite drivers to bring their spouses, get dressed up, and have a VIP party. Cari Baylor, president, describes the atmosphere as "truly like a wedding," with lots of fun, camaraderie, and appreciation all around. The company puts up drivers and their spouses for two nights at a hotel and shuttles them to the party and back.
Roadmaster Group (Glendale, AZ) allows each driver to buy dinner wherever they want and have it reimbursed by the company. This approach takes the guesswork out of trying to decide what type of food will be most appreciated by drivers. They also raffle off prizes and gift baskets to drivers, and this year they are introducing SiriusXM subscriptions for all company trucks that week.
Driver gifts and giveaways. Fleets interviewed by Stay Metrics share advice for popular gift items and raffle prizes.
Load One in Taylor, Mich., uses a combination of gifts and rewards points in their Stay Metrics-administered rewards program. Last year, the company gave away over one million rewards points to drivers, as well as providing each driver with a shirt and other company swag.
In addition to awarding gifts to all drivers, Baylor holds a raffle for big prizes. The most popular option has been a Wyndham travel voucher for a one-week vacation anywhere in the world, including airfare and hotel. Baylor says of this prize, "They can choose anything from Gatlinburg to Greece." Some places previous winners have gone include Hawaii and Punta Cana.
Wellness activities. The report gives several examples of carriers that make drivers feel appreciated by providing health-related items and services.
Load One includes a wellness clinic at their event, allowing drivers to check their blood pressure, receive flu shots, and have their blood sugar levels checked.
Prime, Inc. (Springfield, MO) focuses on wellness for NTDAW and encourages all their shippers and receivers to join in. They want to make drivers aware of potential health threats and encourage them all to get regular screenings and checkups, again to catch potential problems early when they are easier to address.
According to Stay Metrics, many of the approaches and examples from fleets in the publication serve as a touchpoint for amplifying existing programs and building a culture of gratitude.
One of many contributors to the publication, Jim Guthrie, director of operations at Prime, Inc., commented, "We really like to keep the driver appreciation culture alive year-round. While we definitely do all these things and some others during NTDAW, we also keep that at the forefront with everything we do all year."
Tim Hindes, chief executive officer of Stay Metrics, added:
"Drivers chronically feel under-recognized and under-rewarded. We believe DAW can be a valuable tool for carriers to increase driver trust, build a positive work culture, and correct the longstanding feeling of under-appreciation."
The American Trucking Associations (ATA) created and promotes NTDAW to express recognition and gratitude for drivers' hard work during the week after Labor Day, though each carrier decides how it will celebrate and what it will do for drivers.