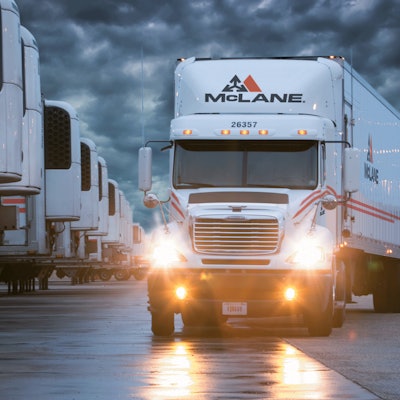 Truck drivers for grocery store delivery fleet Transco, a subsidiary of McLane, can now use 30 minutes of on-duty non-driving time to satisfy the federal hours of service 30-minute break requirement.
The Federal Motor Carrier Safety Administration announced in a Federal Register notice to be published Wednesday, Aug. 28, it will allow Transco's drivers in its grocery division who make wholesale deliveries to grocery and convenience stores to use unloading time toward their 30-minute break.
The waiver is in line with FMCSA's proposed hours of service changes announced last month. The agency's proposed rulemaking would allow the break to be taken as on-duty, non-driving time instead of off-duty.
The agency says it decided to grant the waiver due to a number of factors that reduce the safety risk for Transco drivers. FMCSA says on average, each Transco driver drives only about 24 miles between each delivery and a total of about 180 miles per trip. The company's drivers also mostly travel at low speeds on low-speed roads, take frequent breaks from driving to unload trucks and operate in teams sharing driving duties.
The waiver includes a number of requirements for Transco and its drivers to meet, including keeping a route manifest that includes the locations of all delivery points each day; using ELDs to document hours of service; and equipping vehicles with safety monitoring systems, including video monitoring. The waiver is also limited to team driver operations with sleeper berth-equipped trucks.
The company made a similar request in 2016 and was denied the next year. In its second request, Transco contended that the 30-minute break helps break the monotony of driving long periods of time for long-haul drivers, but Transco's drivers have breaks that include physical exercise several times a day at pickups and deliveries.
The waiver is effective for five years beginning Wednesday, Aug. 28.