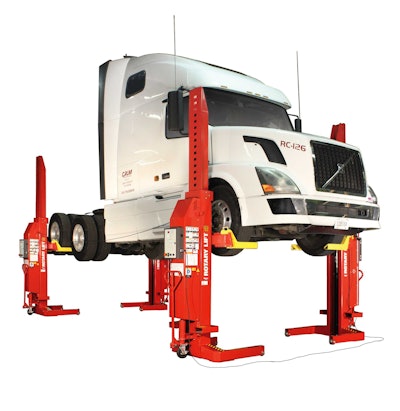 Servicing undercarriage components can sometimes require getting the truck off the ground, but having a nearly 10 ton vehicle hanging over a technician can be unnerving.
Proper lift maintenance is not only a good practice to ensure a long service life for the lift itself, but it's also a vital step in a good safety program.
Automotive Lift Institute (ALI) President Bob O'Gorman said every vehicle lift should be inspected at least annually by a qualified lift inspector, but some lift manufacturers require more frequent inspections and he advised checking the owner's manual.
"We recommend hiring only ALI Certified Lift Inspectors. ALI Certified Lift Inspectors have been independently tested and proven qualified to properly inspect any vehicle lift regardless of manufacturer, model, capacity or style using standardized lift inspection protocols," he said.
"[By using an ALI certified inspector], the end user is ensured that their inspector meets minimum qualifications to a nationally recognized standard," added Peter Bowers, Technical Sales Manager for Stertil-Koni.
When an ALI Certified Lift Inspector completes a lift inspection in accordance with ALI procedures, O'Gorman said they will provide a copy of a comprehensive inspection report and inspection certificate for each lift, and an ALI Annual Inspection Label will be affixed to each lift that passes.
"If your lift is inspected and does not get an ALI Inspection Label at the end," he said, "this indicates that the lift did not pass inspection or it was not inspected in accordance with ALI requirements."
To comply with the ANSI/ALI ALOIM safety standard, O'Gorman said a lift inspection should include a detailed electrical and mechanical evaluation of between 40 and 120 inspection points, depending on the lift type and accessories. The inspection also should include a review of operator training logs and planned maintenance logs for each lift to verify that employers are complying with lift operator training and maintenance requirements.
Beyond a rigorous annual inspection, lift operators should also perform daily visual checks, O'Gorman said, looking for the accessibility and readability of the operating procedures, safety tips and general safety material; accessibility and readability of safety warning labels; readability of the rated load capacity of the lift; proper operation of the lift controls; deformation or excessive wear of any of the lift structural components; deformation or excessive wear of other components such as hoses, electrical wires, drive chains, wire rope or screws; damage or excessive wear on any of the lift contact points which engage any part of the vehicle during lifting; evidence of hydraulic or pneumatic leaks; unusual noises, sudden movements, erratic operation or evidence of chips or filings during use; and cracks or loose concrete around floor anchor bolts, if applicable.
"If the lift operator notices any issues with these areas, he or she should not use the lift and should report the condition to the supervisor, employer or owner," O'Gorman said. "Additionally, the lift should not be used until the cause of the problem has been determined and the appropriate repairs or corrective actions have been made by qualified lift service personnel."
BendPak Product Specialist Spencer Labbe said any damaged, missing, or hard-to-read safety decals should be reordered from the lift manufacturer and replaced, and if oil leakage is detected – or any electrical issues develop – a local service representative should be called immediately.
"Only qualified lift maintenance personnel should repair a lift," he said. "Do not use a lift if any component is broken or damaged, and never put a lift back into operation until any faulty parts have been replaced."
Bowers added that daily walkaround inspections should include examining the lift for loose or missing parts, proper functionality of safety mechanisms and/or structural deformations.
"As part of this process, the technician should raise the vehicle approximately 12-inches, pause lifting, and then walk entirely around the vehicle to conduct a visual inspection that also verifies that the raised vehicle on the lift is entirely level," he said.
Shops can be a dirty environment and, as such, Bowers advised periodic cleaning with hot water and degreasers as part of normal housekeeping procedures. Labbe advised against using ammonia-based products and said to prevent damage to the column control panels, avoid touching the outside and inside of the box panel with sharp objects, striking the panel with hard objects, or using abrasives when cleaning.
"In addition to keeping the lift clean, it is equally important to maintain the cleanliness of the lift pit, if applicable," Bowers added. "Grime and debris in the lift pit can cause premature wear to lifting mechanisms. By keeping the lift and pit clean, the life of the lift will be extended."
In general, Bowers said a lift should have an operational life span of approximately 15 years but unlike trucks and other equipment, a lift's age or duty cycle may not always provide a clear indicator that its lifespan is nearing an end.
"It is important to recognize that there are some extremely old lift products that remain in the market today that simply don't meet current safety requirements," O'Gorman said. "Having such lifts inspected by an ALI Certified Lift Inspector following the ALI procedures will help the lift owner or employer understand when such risks exist so that appropriate action can be taken."