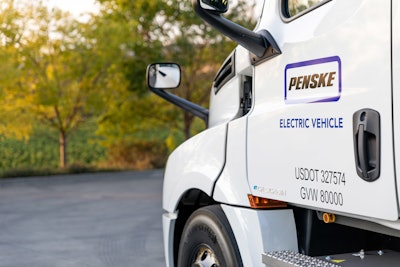 Barely more than three months after taking delivery of its first Freightliner eCascadia, Penske Logistics said Tuesday the company has logged more than 10,000 miles with multiple daily deliveries on dedicated routes in Southern California.
The two trucks are part of Freightliner's Electric Innovation Fleet and are being used to service a large quick service restaurant chain. Penske Logistics President Marc Althen believes there's more significance to the achievement than the miles alone.
"For a fleet that runs trucks 24 hours a day, seven days a week, 365 days a year, 10,000 miles may not seem like a milestone," he said, "but we believe we are the first fleet in the United States to make daily store deliveries using battery electric heavy-duty tractors for regional distribution."
Having taken delivery of its first unit Aug. 20, Althen noted Penske Logistics was "quite impressed with the performance of the eCascadia." The company plans to deploy eight more eCascadia in its Southern California operations supported by a network of heavy-duty electric vehicle charging stations at five Penske Truck Leasing facilities in the area. Penske also performs preventive maintenance at these locations.
The 30-vehicle Freightliner Innovation Fleet is supported by a partnership between Daimler Trucks North America and the South Coast Air Quality Management District, which focuses on improving air quality in California's South Coast Basin and partially funded the Innovation Fleet through a nearly $16 million grant.
The Innovation Fleet is comprised of 20 eCascadias and 10 medium-duty eM2s. Fred Ligouri, DTNA external communications manager, said half of the fleet has been delivered to its Innovation Fleet partners, "with a number of new units arriving as recently as this week," he added. "We will continue to deliver additional eCascadias and eM2s through the coming weeks to provide the full complement of trucks as soon as possible," he added.