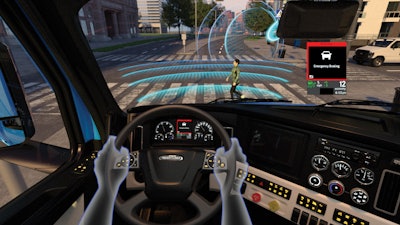 Note: This is the first in a three-part series looking at collision mitigation technologies. The next installment, "OEMs making collision mitigation key part of vehicle safety", will publish Tuesday.
Take rates on collision mitigation features are increasing and for good reason—they're effective at reducing crashes.
After all, no fleet wants to end up in a headline heralding the next record-setting lawsuit. Avoiding that means stepping up to learn and incorporate the latest technologies that can keep trucks on the road and out of harm's way.
To that end, CCJ reached out to various OEMs and manufacturers of collision mitigation technologies to learn more about the products that are helping to keep the roads safer.
Bendix collision mitigation features and results
Bendix Wingman Fusion has become standard equipment on many commercial trucks in North America.
"Some fleets are early adopters and it's getting into the mainstream now, so the take-rate is near 100 percent,"said TJ Thomas, director of marketing and customer solutions for the controls group at Bendix. "Usually, once a fleet tries it they come back and say, 'I like it. I'm just going to keep ordering it.' Take rates are going up."
Kenworth, which now offers Wingman Fusion as standard on its T680 on-highway flagship, reports that the system offers enhanced collision mitigation, lane departure warning, stationary vehicle braking, and overspeed alert & action. This combination typically enables the system to assess a situation faster and react earlier, alerting the driver and decreasing the vehicle's speed by up to 40 percent more than Bendix Wingman Advanced, while also reducing instances of false alerts and false interventions.
Kenworth began offering Bendix Wingman Fusion as a Kenworth T680 option three years ago and reports that the system has proven to be a popular choice among fleets and truck operators. Bendix Wingman Fusion is also available as an option for the vocational Kenworth T880, traditional long-hood Kenworth W990, and medium duty Kenworth T270 and T370 conventionals.
Mack announced in 2017 that Wingman Fusion would come standard on its Anthem trucks. Fleets and drivers alike appreciate the system.
"Some fleets are requiring the system on their orders and in their bid specs," said Roy Horton, Mack's director of product strategy. "We have heard several stories, including instances where cars have pulled in front of truck drivers and hit their brakes. This caused the truck to react before the truck driver could. These are the times the truck drivers really realize the value of the system."
Bendix Wingman Fusion is also standard on International LT Series, RH Series and LoneStar.
"Fleet adoption has risen significantly in the last two years and is projected to continue," said Steve Gilligan, vice president of product marketing at Navistar. "Data indicates that both accident frequency and severity is reduced from the use of collision mitigation systems. The customer need for safer and more intelligent vehicles has driven the requirements of manufacturers to provide those features."
Wabco collision mitigation features are also offered on International trucks. Gilligan said that both the Bendix and Wabco systems installed in International trucks will receive further planned advancements in 2020.
Peterbilt also relies on Bendix Wingman Fusion and has made the system with enhanced collision mitigation and adaptive cruise control standard on its Model 579.
"Features include enhanced braking on stationary vehicles, throttle and brake controls that help a driver maintain following distance when cruise is enabled, road sign recognition with over speed alerts, and the ability to integrate with Bendix SafetyDirect for event video capture," said Darryl Oster, Peterbilt assistant chief engineer.
At speeds above 15 mph, collision mitigation features on Wingman Fusion will alert the driver up to 3.5 seconds prior to anticipated impact with a large, stationary object and then automatically apply the brakes if the driver doesn't react fast enough. The technology will also work on forward moving vehicles in front of a truck by applying the brakes as needed to help prevent a potential collision.
"It's no secret that the OEs we're dealing with are making Wingman Fusion standard, so the take rates are going up and it's becoming what I would consider a market-accepted technology," Thomas said. "They're reliable. They work and fleets are seeing direct benefits from it."
According to Thomas, Wingman Fusion is getting results.
"Typically fleets report a 70 percent reduction in the number of rear-end accidents," he said. "And another 70 percent reduction in the severity of the remaining rear-end accidents as a result of using the system."
Richard Beyer, vice-president of engineering and R&D at Bendix, pointed out that Wingman Fusion, like other advanced collision mitigation technologies, operates with radar, cameras and various sensors that all work together to provide split-second redundancies that can more effectively determine preemptive actions to avoid collisions.
"A big piece of it is that the system is extremely reliable from the standpoint of not having false activations," Beyer said. "For instance, not having braking interventions when the system is not supposed to intervene because you have two sensors looking at the situation and then determining, 'Yes, I need to brake.' And then braking properly, but not braking when it's not supposed to.
"The confidence level in the systems of the people that use them is very high," Beyer continued. "With systems like these, if you get a lot of erroneous things that are happening, people tend to start turning them off or like TJ was mentioning, if they weren't happy with the systems they wouldn't be re-ordering them."
Daimler getting it done with Detroit Assurance
Another collision mitigation system supported by both camera and radar is the Detroit Assurance 5.0 suite of safety systems available for the Freightliner Cascadia spec'd with Detroit engines.
Features include Active Brake Assist (ABA), Full Braking on Moving Pedestrian, Adaptive Cruise Control (ACC), Tailgate Warning and Active Lane Assist which includes Lane Departure Protection, Lane Keep Assist and Side Guard Assist.
"This technology also makes the Cascadia the first SAE Level 2 automated truck in North America as it is capable of both lateral (steering) and longitudinal (acceleration/deceleration) control," explained Brian Daniels, manager of Detroit Powertrain and Component Product Marketing at Daimler Trucks North America.
Daniels explained that ABA 5.0 is always on, detecting distances to objects ahead in its path, calculating speed, and determining if a warning or braking action is necessary. In addition, ABA 5.0 features full braking on stationary and moving objects.
"The camera and radar signals are fused together for greater object recognition, which allows for enhanced braking capabilities," Daniels said.
Fleets are embracing Detroit Assurance's safety features.
"Our fleet customers have told us that the love the new features – especially Active Lane Assist and its automated steering functionality, as well as Full Braking on Moving Pedestrian," Daniels said. "Fleets are also thinking about collision mitigation systems as recruitment tools as they contribute to not only driver safety and the safety of other drivers on the road, but help reduce driver fatigue and provide a more comfortable driver experience."
Full Braking on Moving Pedestrian works when the signal from the radar and camera system detects a moving pedestrian who is about to cross the truck's path. An audible and visual warning occurs with simultaneous partial braking, followed by full braking if the driver does not react, Daniels explained.
Active Lane Assist can be optioned with Lane Departure Protection which automatically activates at speeds above 37 mph.
"The camera system detects the reflective paint and raised reflectors in lane markers. If the truck crosses those markers without the driver using a turn signal, a Lane Departure Warning (LDW, also standard with Detroit Assurance 5.0) will be issued first," Daniels said. "An audible warning is sent through the corresponding speaker on the side of the truck that crosses the lane marker, along with a visual warning on the instrument panel. If the truck continues to veer out of its lane, it will be actively steered back into its lane."
Another feature that helps keep the Cascadia in its lane is Lane Keep Assist. Once Adaptive Cruise Control is enabled, Lane Keep Assist uses micro-steering movements to keep the Cascadia centered in its lane.
Blind spot protection comes courtesy of Side Guard Assist. If an object is detected in the truck's blind spot, the driver will be warned not to change lanes or make a right turn that might result in a collision with an object or person.